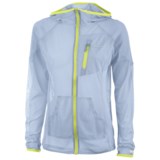 Closeouts. Treated with Insect Blocker® technology, Columbia Sportswear's Insect Blocker® Mesh hoodie jacket is the perfect choice for when you need powerful bug repellent, but don't want to use smelly sprays that lose their effectiveness when you sweat.
Average Rating based on
8
reviews
5.000000
0
5
Reviewed by Gwen from Missouri on Friday, December 27, 2013

I thought I'd never again be able to venture outdoors, especially working in my garden, without mosquito-repellent spray, but this jacket made it possible. Even at dusk, they stayed away from areas covered. I still needed spray to uncovered areas if I was out for more than a few minutes, but this is a big improvement. I hated dousing myself with chemicals when I'd only be out for a very short time. The only entrance I used late in the day was the one where this was hanging.

Reviewed by Alice T from Virginia on Tuesday, August 6, 2013

I got the Youth Size Large of this jacket because they do not have a women's Large. It fits great. I normally wear size 4 The jacket works well

Reviewed by Gardner and Dog Owner from Rhode Island on Monday, July 22, 2013

The weather has been hot, humid and buggy! This extremely lightweight, soft, draping jacket makes walking our dogs in the woods possible again. By size I am a medium but I bought the large because I wanted longer sleeves to be able to protect my hands. I love this jacket! It feels great on and it is surprisingly flattering. Highly recommended.

Reviewed by MI traveler from Michigan on Thursday, July 18, 2013

I lived in this jacket the entire week and a half of my mid-summer fishing vacation in northern Ontario. The black flies and mosquitos were thick, but I had no bites where I was covered with Insect Blocker clothing. This little jacket was lightwieght and looked great.... (well, maybe not as great as at the beginning of the vacation). I recommend it highly.

Reviewed by Julie from Canada on Thursday, July 18, 2013

Good quality jacket. I bought one size larger than usual but that's just a personal preference. I like having the longer sleeves and extra material to block the insects. It seems to be working, certainly for the areas that are covered. It doesn't however repel the insects away from your face. Got stung just on the edge of the hood. Overall great jacket, but I have to agree with another review I read that suggested the zipper be extended completely to the top of the hood. Just would give you the option of zipping up entirely and protecting the face. Definitely would buy again. As a matter of fact friends like it so much that I'm getting a couple more for friends.

Reviewed by Helen from Long Island, New York on Tuesday, July 16, 2013

We live In an area where we are inundated with mosquitoes. Last year, to do any gardening or work outside in the Summer, we had to wear long pants, and a sweatshirt with a hood. This year having this jacket I still need to wear long pants but no more sweatshirt and long sleeved shirt under that. This jacket really keeps those pesky mosquitoes away. The jacket is cool, light and comfortable to wear. I highly recommend getting this jacket if you are bothered by pesky Summer biting bugs.

Reviewed by grammie in nh from nh on Thursday, June 13, 2013

Although I got this after the 'peak' bug season, I think that it works better than any other I've tried. It is cool to wear and works well with mosquitoes. Missed the black fly season with it so can't comment on that. Well made. Like the fact that it is cool, other bug jackets I've worn have been extremely hot to wear. Sized up for Columbia.

Reviewed by britgrrl from NC on Monday, May 20, 2013

I get very badly bitten (even when no one else around me gets touched!) , this jacket will allow me to sit outside in the evenings again without having to cover my arms and neck in chemicals.
It will be hotter than not wearing a jacket but for me that's a fair compromise and still cooler than a sweater.
At such a good price I got both colors (both are really nice) so I need not ever be without. Small and light enough to pack into a bag to take everywhere. Fit is good (sleeves a little long for 5'2'' me but the cuffs are stretchy so they stay at my wrists)
My family so impressed we went back and bought one for my husband and both kids for our camping trips.