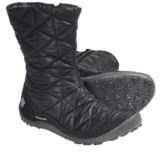 Closeouts. When cold temperatures swoop in, Columbia Sportswear Minx Slip-On Omni-Heat® winter boots combine the flirty charm of a quilted upper and the impressive warmth of a thermal reflective lining and insulation.
Average Rating based on
24
reviews
4.250000
0
5
Reviewed by ophelia dragonfly from Ithaca NY on Tuesday, January 7, 2014

As a member of a family who is trying to wear the most minimal of footwear(zero drop or not elevation in the sole from to to heel) I was hopeful this boot would work out. Once the insole is taken out the boot appears to be zero drop however once that is done the boot has to much volume to be filled and is therefore floppy on the foot. Also, although it states waterproof it is fairly water resistant but becomes soaked after an hour of play in the snow.

Reviewed by Kat from Michigan on Saturday, December 14, 2013

I got these for Michigan winters and needing to walk the dog. I wanted something lightweight enough to jog around with him and also warm and waterproof. These fit the bill perfectly! Unfortunately, the nylon fabric does rip easily. Within a week I somehow managed a small rip near the toe. I am going to patch it up, but hope that it doesn't affect the waterproof-ness. Also, the winter white color gets dirty very easily.

Reviewed by Jessica Yee from Singapore on Thursday, November 21, 2013

My daughter loves the design and weight of these boots. Light in weight, it is quite true to size, altho you may want to get half a size bigger to accommodate thicker socks. Another great product to have for cold winter climate!

Reviewed by Chel from AZ on Monday, November 18, 2013

These boots were stylish and VERY warm (love the Omni-heat tech). But, there was no room for my toes! I could barely wear a thin sock with them before they were "cramming" my toes together and pushing on the top of my big toe. I even ordered a size up like one always should with Columbia boots. Bummed that I had to send them back...

Reviewed by jskag from Michigan on Monday, November 11, 2013

I haven't actually been able to wear these boots in snow, but I love the look, the fit, and the apparent warmth. Very comfortable, and I am so excited to have found them. I would say they fit true to size.

Reviewed by hereandthere from Colorado on Monday, October 21, 2013

This boot is unique and mostly comfortable. The zipper opens generously, and the boot seems warm and very light. On top of the toe box, toward the tip of the shoe, there is a harder material that pushes down on the tips of my toes. It is between the quilted upper and the rubber sole. I have medium width feet and slender toes, so I think this would be a problem for anyone with wide feet or toes. The boot felt great across the width and top of my ankle. My heel usually turns in a little, and the sole of this shoe wasn't flat enough at the edges- it actually encouraged my heel to rotate a little more than normal.

Reviewed by Nina from Washington on Monday, October 21, 2013

These boots fit me great, I wear a size 43 in European sizes, and have a slender foot. They feel like a comfy moccasin and are easy in and easy out, truly waterproof. I bought two more pair.

Reviewed by On the Move from West Coast on Thursday, October 17, 2013

This is my forth pair of Minx, two for myself and two were gifts, and if they come in more colors, I'd consider getting them as well! It does run a bit small, but if you go a half size up, it tends to feel too large. But the situation is easily resolves with a pair of medium weight socks. If there's a pair left in your size, grab yourself a pair! STP pricing on these can't be beat!

Reviewed by Kasey from NY on Monday, October 14, 2013

Sierra sent me my shoes in record time. I got them within 4-5 days since I ordered, so kudos to the company for getting things done on time & with speed. Other than that, I had to order the white Omni-Heat Minx's because they ran out of black or brown, but these shoes were gorgeous. Easy to put on & slip off.Even though we're experiencing cold weather where I am and not snow, when I tried these on within minutes my feet were super toasty warm, so I can only imagine how warm my feet will be in the actual snow!
As for size, an important factor especially because of all the ratings, personally I do recommend that if you know you're a different size in boots than you are regular shoes (especially if you normally size up in boots) I would size up with these shoes. I'm usually an 8 - 8.5 in regular shoes. However in dressy shoes and boots, in general, I go up to a size 9. I have no idea why that is, but the 9's in these shoes were perfect! If I had gotten an 8.5 they would have been too perfect/close, but with the 9 I have enough toe wiggle room with space for socks if need be.

Reviewed by smadden from Alaska on Thursday, October 3, 2013

These boots are cute and fit well. Hope they keep me warm when it snows!!

Reviewed by Guy Fawkes from Washington on Thursday, August 29, 2013

I really like the recent purchase I made with Sierra Trading. This Columbia boot is awesome! It will be a great boot to take me through the NW wet winter. I am considering buying another color because I like it so much.

Recommendation is to order a size larger, but I read the other reviews prior to ordering and did so. I highly recommend that.

Reviewed by Karolina A. from Los Angeles on Wednesday, August 28, 2013

Glad I ordered a size larger, but the shoe was for someone else and I will need another 0.5 extra so I am sending these back and getting size 10.0 The boot is super light and very cute. Doesn't look big on your foot, if I lived in the snow conditions this would be perfect for cold snow days. I tried it in the office and my foot instantly felt warm.
The shipment was quick and the tracking worked well.

Reviewed by Mary the Missionary from Florida on Thursday, April 25, 2013

I have not had a chance to wear these boots in the cold. They were purchased for a trip to Eastern Europe in Nov. I can say that they are light and very comfortable. They are not bulky and can fit under the leg of jeans or a dress pant. I'm trusting in the Omni-Heat feature to keep my feet warm.
They do run small. Normally I wear a 9.5 but got these in a 10 based on others suggestions. I could probably use a 10.5 if I want to put on a couple of pair of sox.

Reviewed by Ski queen from Washington on Tuesday, April 2, 2013

Definitely run on the small size but boy are these cozy boots! I feel like I am wearing slippers while wearing them. Very warm, lightweight, cushy soled, and stylish too!

Reviewed by Momma Behr from Minnesota on Friday, March 29, 2013

I wanted a pair of boots that are warm, lightweight, and easily strapped into my snowshoes. Unfortunately I'm buying them at the end of the "season", so I'm not sure they're going to perform exactly the way I want them to. They do meet my lightweight requirements; they feel like slippers! And, they do appear to be warm enough (although I've only tested them at 20F). I'm going to trust Columbia's Omni-Heat on this performance characteristic as it hasn't failed in the Columbia jacket I own. The last requirement is to strap readily into my snowshoes. Because my snowshoes are at the cabin, I haven't been able to check this out yet. I'm going to assume they will work just fine, as the heal and toe on these boots aren't nearly bulky as my Sorels. One thing I want to caution potential buyers on is the fact that these boots not only run small in length, but they also do in width. I'm a narrow size 9. I bought a 9.5 and have "just enough" wiggle room in the toe. But what really surprised me was how tight they fit across the top of my foot. I'm hoping they "stretch out" some with repeated use. Oh, and they're cute!

Reviewed by Karen from Wisconsin on Sunday, March 24, 2013

Love these boots! Very comfortable and warm. I ordered a half size bigger and they fit great.

Reviewed by CHELE from INDIANA on Friday, March 15, 2013

VERY CUTE BOOT, VERY COMFORTABLE AND WARM. I DID THE RECOMMENDED AND BOUGHT IT A HALF SIZE LARGER AND I AM GLAD I DID. REALLY LIKE THIS BOOT.

Reviewed by Kansas Mom from Kansas on Wednesday, March 13, 2013

These boots are shorter than I expected (my fault), coming maybe 1/3 of the way of my calf. Other than that, the other reviewers described these accurately. You need to watch sizing. I normally wear a size 8, but ordered half a size up and they fit fine with athletic socks; my toes go all the way to the front. So if you think you might want to wear them with thicker wool socks, go up a full size from what you normally wear. They are lightweight and molded so they are GREAT if you have to drive in them (no hitting the brakes accidentally because of bulk), and have great traction. I would definitely buy them again. I gave them only 4 stars since I only got to wear them a day before the last of our snow melted, so can't comment on their durability.

Reviewed by Clothes horse from Atlanta on Wednesday, March 13, 2013

Warm, good traction on snow and ice. Very comfortable. Stylish with pants tucked in or out.

Reviewed by Meghan from Brooklyn, NY on Wednesday, March 6, 2013

I bought these boots in brown. Love them!! Lightweight (not clunky) for driving. Wear them in snow, slush or a rainy day. I wear like a 10.5 so bought them in an 11 (per reviews). They are rooomy for me and my foot is more on the wider side than the narrow. Cant wait for a good deal so can order in black.

Verified Buyer

Reviewed by pomegranate from Ann Arbor, MI on Friday, February 22, 2013

I bought these for my Mom. She usually wears a 71/2 or 8, but needed an 8 and a half in these. I noticed my toes went to the end of the boots as well in the 8 (and I am a pretty solid 8). But she's nuts about them. They match her puffy ribbed black coat and she said she can't feel the MI cold at all walking in the slush.

Verified Buyer

Reviewed by Dany from tn on Wednesday, February 13, 2013

In the photo it looks more stylish than it really is, ordered 1/2 size bigger. I am a 6 and ordered 61/2 and fits perfect, it is for narrow feet though. It is ok I am keeping them just not crazy about them, but they look nice. Not super warm as described though. I wouldnt use it for snow.

Reviewed by Victoria Mom from Victoria BC on Sunday, February 3, 2013

The fit is snug like a glove (at a 1/2 size up) and slightly moldable with wear. Snow shoes u can drive in! Cute and not klunkie! Great traction, warmth and makes feet look small! I ordered black.

Verified Buyer

Reviewed by AZ Horsemom from Phoenix, AZ on Wednesday, January 30, 2013

Bought to use at cabin in colder country than the desert. Haven't taken them yet, but love the fact they are waterproof and very light. Wanted a zip up boot and these really fit the bill.