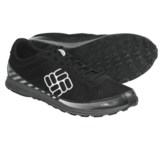 Closeouts. If you don't like having clunky shoes getting in the way of your trail experience, than lace up Columbia Sportswear's Ravenous Lite trail running shoes. These ultralight, ultra-breathable minimalist devour dynamic terrain with a low-profile, cushioning TechLite® midsole and a streamlined, grippy Omni-Grip® outsole.
Average Rating based on
14
reviews
4.142857
0
5
Verified Buyer

Reviewed by Vedauwoo from Wyoming on Monday, May 25, 2015

The market segment for what were called minimalist shoes have now bifurcated into fuzzy labels that represent a full-blown barefoot or glove type shoe on one end and something in-between a traditional running shoe (what was advertised as a barefoot shoe or formerly minimalist shoe). I was wanting more of barefoot type. That said the shoe fits okay. I have a neuroma in my foot and need a shoe that allows the ball of the foot to expand. This shoe seems to allow that (so far), not as well as an actual minimalist or barefoot shoe but sufficient. Unfortunately the advertising departments are running things rather than the designers in most companies.

Verified Buyer

Reviewed by Lightweight runner from WA on Monday, April 6, 2015

This is a simple and comfortable shoe. One thing that differentiates it from other lightweight shoes is that there is a full, durable sole on it.

Reviewed by Montana Boy from Montana on Wednesday, February 25, 2015

I ordered these because I needed a new pair of active shoes and I was headed to Vietnam during winter break of my semester. Honestly, they held up pretty great. I was never in super harsh terrain but I did plenty of walking on the streets and mild terrain. They do wear cosmetically pretty quickly - little things like the inside Colombia logo fading and stuff like that. Structurally they have begun to fail at this point. I think I got them in October of last year and I'm wearing them now in February. The sole's rubber is beginning to separate on the base of the shoe and at the tip the rubber is also coming away, the fabric in some areas has separated from the (cuff?) of the shoe, where I stick my foot in, the circular area, but I would say I am pretty rough on my shoes and they are holding up still. Honestly, these shoes look pretty sharp too. I used to wear vans and stuff in high school and moved to a Chaco t-shoe recently but these put them to shame. Very sharp and super minimal and pretty darn COMFORTABLE as well. I'm about to buy another pair right now. Definitely good for people with flatter feet.

Verified Buyer

Reviewed by WVMNTNRNNR from SOVA on Friday, January 30, 2015

Definitely minimal these shoes are extremely light and offer nearly zero support. If you are bio-mechanically correct these are perfect but if you need support or need control these may not be for you, Well made but not warm.

Reviewed by Matthew Ream from Colorado on Thursday, January 29, 2015

If you want a minimalist shoe, this shoe is great! It's lightweight and breathable, yet extremely durable and comfortable. When running, I typically like a "beefier" shoe for the feeling of security it gives me, but this shoe's heel cup design is awesome and I get all the support I need. NOTE: I've only tested it out on shorter runs (under 5k), but I find it does everything I need it to. I wear a size 12, and it was true to size.

Verified Buyer

Reviewed by WVMNTNRNNR from SOVA on Sunday, January 4, 2015

At first look I was disappointed but after trying them on I was pleasantly surprised at the fit and lightness. I will not use these for long runs, they do not have the support I require but for every day wear or short runs they are gr8!

Reviewed by Chef_Special from Texas on Sunday, December 21, 2014

I bought these new more than a year ago (closer to 2), retail, and am considering getting a second pair here. I really like to beat my shoes up and after two summers of hiking everything from the Saguaro Desert, and moderate caving and canyoneering with water features, to day hikes down the Grand Canyon and trudging through the Zion National Park Narrows these shoes have NO sign of breaking down! Not a single torn seam or worn through sole. They breath awesome and even dry quickly after a submersion in water. I cant say enough good things about these guys. Good work Columbia. They fit true to size on the dot. I wear 10 1/2 US and 44.5 EU and the 10.5 fit perfect. They have been everywhere with me and dont only make a great trail running shoe, but a casual to light hiking shoe as well.

Reviewed by Moosaki from WV/PA/MD/VA on Friday, October 17, 2014

I bought mine for fitness center wear. They are light weight, cool on the foot and quite comfortable. I run errands in them after workouts. I went a 10.5 for my size 10 foot. Perfect fit. The fit is soft and flexible.

Verified Buyer

Reviewed by Alex from wa on Wednesday, July 2, 2014

I bought these and was surprised at how light they are! Good fit (for me) and good materials. Work as day hikers, around the office, and even some trail running. They also dry pretty fast! And seriously - they are light!

Reviewed by John from Cali on Monday, March 24, 2014

Great shoe, can be a little tight with socks on, but comfy and light!