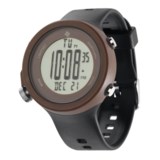 Closeouts. Dedicated runners rejoice! Columbia Sportswear's Ravenous sport watch is fully equipped with everything you need to take your training to the next level, like lap memory, interval times, 100-hour chronograph and even a hydration alarm that reminds you to take in fluids when your body needs them most.
Average Rating based on
57
reviews
3.666666
0
5
Verified Buyer

Reviewed by Travel Often from TN on Wednesday, October 29, 2014

This watch is AWESOME. Very large display and easy to navigate. Very sleek design and I wear it daily. Not too bulky or heavy. Highly recommend this watch to anyone looking for a everyday watch for the backwoods or city life.

Verified Buyer

Reviewed by Kong R Candy from korea on Friday, October 17, 2014

it has an wide body rather than i though, and is thick not slim. there is a holder?? at the belt , it make me being in a trouble while taking off.
the battery was out, so i bought a new CR2025.



Verified Buyer

Reviewed by Sauer from Roswell Ga on Monday, October 6, 2014

Not sure how the watch works because it came without a battery. I missed that, as pointed out by the STC rep, part of the description. So I finally bought a small screwdriver to open the back. Next challenge is to find a battery. Checked two stores already.

Verified Buyer

Reviewed by Harper from Arkansas on Wednesday, August 20, 2014

When I got the watch from Sierra, the battery was dead, so that was a bummer. I got a new battery, swapped it out and this watch works great! The face was a little smaller than I thought it would be, but it still looks great. I am able to track my runs, as well as many other activities very efficiently now. Definitely would recommend.

Verified Buyer

Reviewed by John from Lakeland on Monday, June 30, 2014

I like this watch. The feature that is most useful to me is the large size of the display. Makes it easier to see when I am not wearing my glasses. I use it in the pool and while bike riding. It has a multitude of functions, which take some time to learn, but it is fairly easy once you get the hang of it.

The Sierra Trading Post states on the website that is does not come with a battery. Not quite true. It came with a battery, but it was dead. However, the back removes with a small screwdriver and the battery is a fairly inexpensive CR 2025.

Verified Buyer

Reviewed by DK from Washington, DC on Wednesday, June 18, 2014

Watch came broken. Will be returning. Would not recommend.

Verified Buyer

Reviewed by John from Lakeland on Thursday, June 12, 2014

Arrived DOA. Returned it. Haven't gotten the replacement yet. Will update.

Reviewed by Kim from Chicago on Friday, March 21, 2014

It's a decent easy-to-use and adjust watch. I have it in red and it looks good with running/workout attire...everyday attire? not so much (it is red after all). It's a bit thick, but you can see that in the photos. Note: my watch did arrive dead as others have said...just popped in a new battery myself–easy.

Reviewed by The nightshift watchman from Texas on Sunday, March 16, 2014

Perhaps my expectations for a digital watch are lower than normal, but overall, with coupons this watch comes out to about $25-$30 which is a steal. I bought the brown/black version first and after about two months of wear and tear (including abuse from my one year old) I decided to get the black/red set up as well. The first black/red model arrived and it was repackaged/used. I may not have realized it had I not received a brand new version of the black/brown the first time. STP customer service as always been wonderful so I knew they would make it right and they did. I received a new black/red version and all is well. While you do have to buy a watch battery (about $4 for a two-pack at the dollar store) that is a small price to pay for a stylish watch that catches the eye but is not too over the top. The watchband is rubber and fits my hand just right which can be a challenge at times (think of the dilemma of a pants belt you buy where your waist is in between two holes so you are either too tight or too loose). The numbers are long/lean and that is a bit odd but it doesn't bother me too much. Get it and enjoy it!

Reviewed by Beach Jody from New Jersey on Sunday, February 9, 2014

I ordered this watch for my hubby for Christmas - he really wanted it. When I got it - it was dead. So, I called STP and the nice customer service rep sent me another. Guess what - the second came and was completely dead. I'm not sure if I should continue this convo with STP or with Columbia directly, but I would still like to get this watch for my husband, but only if I can get one that works.