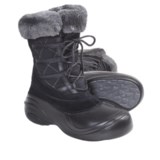 Closeouts. Surprisingly lightweight, Columbia Sportswear's Sierra Summette Lace winter boots is a cozy sanctuary for winter-bound feet. Inside the waterproof design is 200g insulation that keeps toes comfy down to -25°F.
Average Rating based on
21
reviews
3.666666
0
5
Reviewed by Mom in the Midwest from Indiana on Friday, February 21, 2014

I have had my Columbia boots for a winter now and LOVE them. They are very light weight but yet very warm. I have worn them almost every day I have gone out in the snow and this has been one of our snowiest winters in years. In fact, I plan to buy another pair in a different color just to have them. I do think they might run a little small in size so take that into consideration when ordering. I typically wear a size 7 shoe, but my boots are size 8.5. You won't be disappointed.

Reviewed by EMS from New Jersey on Thursday, February 20, 2014

I almost returned these because I was disappointed in how they looked -- not as good IRL as in the photo. I got the Bungee Cord color. I especially don't recommend these if, like me, you have short legs and the wide part of your calf starts lower down than on most people. The result is that the tongue part of the boot sticks out and the fur trim doesn't blend in with the rest of the fur trim around the top of the boot. It just looks dumb. However -- in terms of performance, these have been getting the job done during this miserably cold and snowy northeastern winter. I've worn them almost every day for about two months and they have kept my feet warm and dry. Plus, they are comfortable for extended periods of walking. Looks like I'm keeping them. I'll probably wear them next winter and then try to pass them down to my daughter, whose feet will probably be the same size as mine by that point -- and she's skinny with long legs, so they will likely look much better on her than on me.

Reviewed by jen from MN on Monday, February 17, 2014

The boot has light weight, but I don't like its top part, look to wide outside, but narrow room inside. I have small feet, but I order 1 bigger so that I can wear thick sock, but when I tried them on, I have a feeling like my feet was smashed down, uncomfortable to move , like put my feet in a thick rubber tube .

Reviewed by T Spooner from Alaska on Wednesday, February 5, 2014

I wanted to wait until I'd used these boots properly before writing the review. I'm a travel RN and my latest assignment took me to Anchorage AK for the winter. I needed a pair of boots to get me through the cold weather since I'm from FL and had nothing suited to subzero temps in my wardrobe.

First off, get the larger size. I was hesitant to do it since that would put me at a 10.5 (normally a ladies 9.5). I thought it might make them too large and therefore introduce blisters with repeated wear. But the 10.5 was a perfect fit. There was room for thick, double pairs of socks, too.

Keeping warmth in, they are a good boot. I used this boot mainly to get my shopping done and run errands (walk from the car to the library doors, hit the post office, see movies, etc.). I went walking for the exercise maybe 50% of the use. If you wear these boots longer than an hour with heavy walking, your feet will sweat (no matter the temp) and the exterior cold will be conducted inward. It's not that the boot is leaking, just that your sweat is freezing. As far as waterproof, they definitely are. There's just no room for ventilation if you're using them for heavy hiking. The sole isn't very flexible either, and the grip on icy surfaces is non-existent. But not many boots have the built-in traction you can add with those rubber crampon type things everyone wears up here.

The lacing is annoying in any boot, but I found that if they were not laced too tightly I can slip them off and on again quickly without having to re-lace them.

I gave 4 out of 5 stars simply for the lack of ventilation and traction. Otherwise, I've used these boots daily and have found them well worth the cost. It's gotten down to -12 degrees this winter and my feet were warm, dry and comfy. It kept my upper half from shivering.

I would recommend these boots to people needing to add reliable everyday footwear to their winter wardrobe.

Reviewed by me from sun prairie, wi on Monday, December 9, 2013

I ordered these for my daughter who wears a 5.5 women's....way too small. Unfortunately, the 6.5 size wasn't avail. They were very pretty boots but ran super small. Ordered a diff. pair of Columbia boots, this time size 7 for her and they actually fit with a little bit of room to grow. So...if you're buying Columbia boots, order a size or size and a half up. They all seem to run small. She was disappointed she couldn't have these but is very happy with the next choice of Columbia boots, the Omni slate and purple ones. I gave it a 3 for size accuracy. Other than that they are very nice boots.

Reviewed by Northern border mom from ND on Wednesday, November 13, 2013

I bought this boot for our daughter, and she couldn't even get them on, and she doesn't even have a "WIDE" foot. This is really weird. I don't know what kind of foot can go in these things, but they are definitely GOING BACK.

Reviewed by Nikolay G from Rutland on Monday, November 11, 2013

I bought this pair for my wife-to-be ... A true winter lover :) While most of us would probably prefer to wrap themselves in front of the fire, she would gladly go for a walk.
This is where these boots come in real handy - they are light, warm and according to all of us - cute. The only probem has been discussed already - the size. Of course it is hardly a problem if you just pick a size or size and a half larger.
Strongly recommended!

Reviewed by Winter Lover! from Stanley, Idaho on Tuesday, October 15, 2013

These boots are so soft and comfortable fitting that I couldn't believe they were priced and what I could afford! They fit in all my snow shoes and they perfect for snow hiking! Highly recommend to anyone!

Reviewed by Joyce from Colorado on Tuesday, September 3, 2013

Boots definitely run small for overall size (I'd have to order up a full size for length) but has a large heel base. I ordered a 1/2 size larger based on how boots seem to typically run, but my toes still touch, but I'm going to have to return the boot as my smaller heel base just swims in this boot. So, using this for snowshoeing is completely out.

Reviewed by Ellen from Buffalo on Monday, April 8, 2013

The boots were much lighter than expected. Read the reviews posted by others that said to buy a size larger and I did. It was a great decision. Can't wait to wear them next winter.