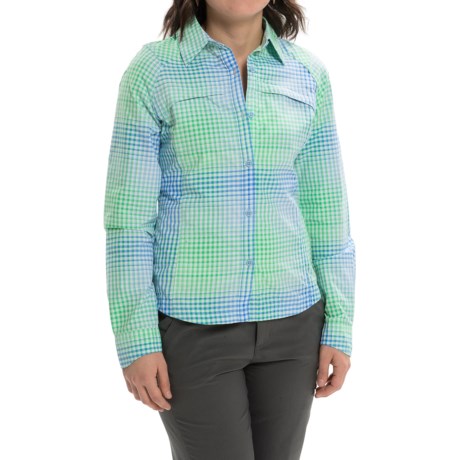 Don't size up
Reviewed by Hiker from Montana on Thursday, March 27, 2014
I just got this in the mail and am writing a review solely based on the sizing. I'm a size small in most brands- I was contemplating sizing up to a medium as STP suggests, but decided to stick with the small. A medium would have been way too big- I'm almost wondering if I should have gotten an extra-small! I think I will prefer the freedom of the movement in the small vs. an extra-small, but I do think the extra-small would have fit
For reference: I'm 5'3, 117 lb with a mostly flat stomach. I wanted a button down shirt so I wouldn't have to worry about whether I had a little belly while I was hiking, which is something that is noticeable with my (tight american apparel) t-shirts. I guess my advice is to know your own body- if a normal size small button down shirt would look good/not too tight on you, get the size small. If your tummy area is a little bigger and you're actually a size small/medium, maybe do size up.
A few other notes on the size/cut- its a really flattering cut. I know I shouldn't care if my hiking shirts are boxy, but I do. And this one is cute and flattering. Its not super long- it seems like the perfect length for me, but I have a short torso. I put my daypack over the top of it and it seemed like it would be a great fit- that it wouldn't ride up/expose my belly. For taller people it may end up being a bit too short.