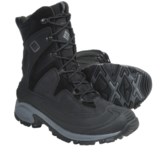 Closeouts. When you're bound for the seriously cold temps, head out in Columbia Sportswear's Snowtrek XTM winter boots knowing your feet are safely wrapped and secured in a waterproof construction with 600g insulation for comfort all the way down to -65°F.
Average Rating based on
18
reviews
3.555555
0
5
Verified Buyer

Reviewed by Nick from NJ on Thursday, April 24, 2014

disappointed - this model came without the original box. Look very massive. good option for fishing.

Reviewed by The Kind Pastor from U.P. of Michigan on Tuesday, January 21, 2014

I am athletic and was a certified master ski and snowboard boot-fitter with 15 years boot work experience, I had purchased these boots in a size larger as per the reviews mentioned they run a bit small. Normally a 11, the 12 fit great. The boots are light, have a deep tread for traction and were comfortable out of the box with wool socks. They have the look and feel of thinly insulated hiking or hunting boots and much thinner than traditional snow boots and are easy to walk in and would be great for snowshoeing. I am normal body temperature and did try these boots in single digit weather twice, shoveling snow and on a sleigh ride with cold penetrating into the top of the feet in less than an hour. I could only wear these boots in the upper single digits with continuous body movement, but surely in the teens and 20's. I had to return them as I could in no way wear these in any negative to minus 65 Fahrenheit temperatures without risking frostbite.

Reviewed by Ohioan from Ohio on Friday, January 17, 2014

These are WAY smaller than an 11.5. They are closer to a 10.0 at best!

Reviewed by Vlad from Belarus on Sunday, January 5, 2014

What can I say? They are warm, not afraid of slush and very helpful in deep snow.

Reviewed by The Kind Pastor from Eagle River, WI on Thursday, December 26, 2013

I wear an 11 and ordered a 12 per the reviews. Wore with wool socks and superfeet insoles for a good fit and proper circulation. Medium comfort out of the box. Honestly, the cold rating is maybe down to 0 at best. I was raised in the North Woods of Wisconsin and the UP of Michigan, lived in Jackson Hole, the Rockies and the Sierras. Many sub zero and snowy winters through several different pairs of boots. Consider myself normal on a hot to cold scale and circulation. Wore these yesterday 2 different times of the day in 8 degree weather and toes and top of feet started to become cold in 30-40 minutes both times with moderate movement. Boots were heated indoors before going out to shovel snow. The insulation is compacted so thin in these boots they cannot keep any cold out unless you are in high circulation, snowshoeing at a steady pace, running behind a dogsled or jogging. Then still would have doubts on top of feet below 0.
As an outdoor athlete and in a true winter lifestyle and Master certified ski and snowboard boot-fitter these boots were designed for looks, tread, light weight and Columbia chose to market them falsely as the insulation was compacted much too thin during production, especially on top of the feet for any weather in any temperatures below zero. The 600g insulation may somehow be rated for -65 temps by the manufacturer. But when you compress the insulation to a few millimeters as in this boot, this -65 rating is completely void. I rarely return products. With the advertising of these boots to -65 without a recall after production testing, is a mystery only the board of Columbia directors can answer. The rating should be 0 at best, and this is a more than generous rating. The cold rating should be after and especially the Chinese production and not of insulation testing used in winter boots.
Are the manufacturers of the insulation providing their own testing ratings?
Yes these boots were priced on closeout. Why did Columbia not remake this boot? Has Columbia fallen in their morals and values of a company?
These boots will have to be returned to Sierra trading post for the above reasons and are the first pair of boots as an av id winter enthusiast I have ever returned in 50 years of winters.

Reviewed by hikerjan from New England on Wednesday, November 6, 2013

I bought these boots for my hubby who has normal width feet with no issues and unfortunately the boots were quite small, about a full size too small. Too bad as they are nice solid boots and the reviews did not lead us to believe they would run so small. He takes a size 8.5 and I bought an 8.5. Fortunately my sister has wide, difficult to fit feet and these fit nicely! She is an eight womens boot and I bought an 81/2 mens boots; how odd! Unfortunately as the boots were close-outs my hubby missed out on a nice boot but at least someone benefitted.

Reviewed by Rob the truck driver. from Vermont on Tuesday, November 5, 2013

I have not had the boots out in bad weather yet but I love how they feel on my feet! They are well made and very light. The soles should work well in snowy conditions.

Reviewed by zebber from minot on Wednesday, October 30, 2013

Incredible price. Great product. Completely as advertised.

Reviewed by Michael from Montana on Tuesday, October 29, 2013

So far the boots are comfortable if a little bit stiff. They should break in over time. Takes some getting used to for walking. They are nice and warm. The first size I ordered was too small but it was very easy to send them back and exchange them. I was impressed with Sierra's customer service. Will definitely shop here again.

Reviewed by Standing in the Trees from Manhattan, Montana on Monday, October 28, 2013

...I like them a lot. I wear a 9.5 or 10 in most every shoe I have, so I got these in a size 10 to hopefully have some extra room. Even with a thick pair of woolen socks, there is plenty of room. I wore them out in 20 deg Fahrenheit weather last weekend. While this wasn't cold enough for the real test of snowshoeing in them in 0 deg or colder, these kept my feet warmer than my old Sorels while standing in the trees waiting for shooting light and were much more comfortable and nimble when sneaking through the woods after whitetails.