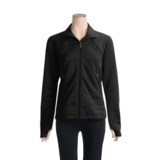 Closeouts. The Columbia Sportswear SWT fleece jacket has built-in four-way stretch to keep you moving freely when you're out taking on the world.
Questions about this product? Get answers from community and staff experts.
Question
(4 Questions)
Answer
(3 Answers)
"Does this fleece jacket zip into the titanium shell jacket?"

There doesn't seem to be anywhere that a zipper would attach, so I would think not.

"I have the Columbia Titatium ski jacket that has a YKK zipper and inner zipper to put the liner in. I don't have the liner anymore and was wondering if this jacket would zip into my ski jacket?"

"I lost my inner fleece for my columbia titatium jacket. will this one zip into it?or any ideas where to find a replacement?"

Unfortunately the only way to find a replacement liner is to match the exact zipper. If you can figure out what kind on zipper you have on you coat, I could try and help you find a new fleece.

"I have a small women's Columbia Titanium ski jacket shell ("interchange" with yellow/gold tag). I lost the fleece that came with it and am trying to find out whether this fleece would be able to zip into the shell. Any ideas?||Thank you-Pat|preefe@hotmail.com"

This is not a zip in compatible jacket.