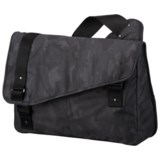 Closeouts. Protect your possessions on your daily commute with Columbia Sportswear's Tech Trekker messenger bag. A padded laptop sleeve protects your computer, and Omni-Shield® advanced repellency resists light rain and stains.
Average Rating based on
11
reviews
3.727272
0
5
Reviewed by Roaming in NYC from New York/ Manhattan on Monday, February 17, 2014

Great for carrying my laptop - cushion and separate compartment provide protection. Also, enough room to carry a folder. Two front pockets with zippers hold keys and cards. This is a good bag for a "light load"....if you're looking for something to carry to the gym - sneakers, shorts, toiletries, etc, it's probably too small.

Reviewed by Trailrunner from Georgia on Wednesday, February 12, 2014

This is the perfect bag for my 13" laptop. The ergonomic strap is so comfortable and there is plenty of room inside for extra stuff. The reinforced strap will never break.

Reviewed by JSW from Chicago on Saturday, February 8, 2014

I like the looks of this bag and thought it was very well constructed but the "fit" was just odd. You are pretty much restricted to wearing it one particular way because of how the straps are constructed and I just felt it left me open to pick-pocketers OR not being able to reach into the bag when walking to and from my destination. I generally love Columbia products so was disappointed that this wasn't the bag for me. Exchanged it for another similar bag. Thanks STP for your great return policy!

Reviewed by EJ from MN on Wednesday, January 29, 2014

First off, this bag seems well made, so no worries there. Unfortunately it's intended for high schoolers or something. The strap is not really adjustable and kind of small (at least on my 6'2" average/thin body). And with my laptop inside (which surprisingly barely fits, it measure 14.9" x 10.2" x 1"), there is barely room for a notebook and some folders. The outside pockets don't expand outward, so anything in those (like laptop cords), similarly eats up space on the inside. It works as a simple tote, but it just doesn't have the capacity to get me through the day without swapping stuff in and out two or three times between meetings.

Reviewed by setaglm from portland, or on Thursday, January 23, 2014

I bought two of these bags one each for me college students. I had to return them because the straps are so short and there is no extra to extend it. I kept thinking that i was not figuring the strap out so I had a couple of other people give it a try and it was not me the strap is truly very short. It feels and looks like the bag is right up the armpit.

Reviewed by beanthecat from illinois on Monday, January 6, 2014

Although very functional the design is a little different design than pictured.

Reviewed by M Elizabeth from Maryland on Tuesday, December 24, 2013

Love the bag BUT......It does not accommodate a 17" laptop as advertised. Might keep the bag anyway because it can be used otherwise. Very disappointed though.

Reviewed by Mama Grizzly from Minnesota on Thursday, November 21, 2013

;)

If I could wink at this bag, I would.

I love it so much. It's constructed very well. One of the most important things to me was finding a bag that would simultaneously hold a laptop and a drawing tablet. This bag does all of those things and more (it has some other nice pockets). The padding is just right too ---not too much, and definitely not too little.

I am very happy and I think almost everyone would feel the same if they had this bag too.

Reviewed by DW from Pa on Saturday, October 12, 2013

Bought Thia for my work bag. Perfect to haul my laptop. Best is water just bounces off. Great bag

Reviewed by Armed Partisan from Cocoa, FL on Tuesday, June 11, 2013

I've had this for a few days, and have been rained on a couple times here in FL on my moto. The laptop has been totally unscathed thanks to this bag, so the water repellentcy is good. While you imagine from the pics that it sits like a regular bag, it appears to have been designed to hang off the left shoulder, with the flap on the right side in use. It wears more like a backpack than a shoulder bag. There IS a carry handle on the left side, but you can only use it when the bag is closed and latched. There is a laptop securing velcro strap inside of the padded cell to keep it from slipping out, but I still wouldn't use that handle unless the flap was closed. There is an internal document sleeve for papers on the outside wall, and one pocket on the laptop cell that's slightly smaller than a DVD case. Modern slim DVD and Bluray cases will probably fit. There's enough room inside the bag itself for my helmet bag/cover, a set of riding gloves, reflective vest, and a few other small things I carry around. The two large outside pockets are zippered up, and I haven't needed to use them yet. My only complaint is that there's no real reflective strips or anything on the case, which you would imagine would be handy on a messenger bag that would be used on a bike or moto (I do both), but this minor safety feature aside, and the fact that it does not have a waist strap, I would give it five stars.