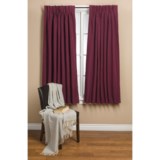 Closeouts. Sure to bring a luxurious feel into any room, Commonwealth Home Fashions' Hotel Chic blackout curtains feature prevent sun fade, glare and interrupted sleep.
Average Rating based on
2
reviews
2.500000
0
5
Verified Buyer

Reviewed by Linda in Auburn from Auburn, WA on Thursday, May 29, 2014

The plus side: heavyweight, room darkening fabric, "Hazelnut" color true to advertisement.

The negative side: the white acrylic lining fabric is bonded to the polyester outer fabric and the care directions on the curtain tag state "DO NOT IRON"---so I did not iron, but spent several hours with a home clothes steamer trying to get the wrinkles out. The curtains are still wrinkled and I am hoping (SO hoping!) the wrinkles will eventually dissipate with more 'hang time'. Also, there were several very small areas on the curtains where the acrylic lining had very small holes in it which allowed light to show through the polyester outer fabric---not enough that I'd send them back as the curtains are going into a rental house, but enough to substantially disappoint me since these are 'new' drapes and shouldn't show wear marks coming out of the shipping bag. Overall, I was disappointed with the product and wouldn't purchase these drapes again. How can I get the wrinkles out if the product is not to be ironed? Any ideas?

Verified Buyer

Reviewed by DeanieMeanie from Los Osos, CA on Friday, May 2, 2014

I ordered these curtains for a rental property my mother owns. I wasn't sure from the website what the material was like or how they were going to look, but our new tenant was moving in ASAP and I needed some pinch pleated curtains quickly. These were the right size and certainly the right price, so I called and ordered them over the phone. The agent I ordered from was very nice and told me if I had any problem I could return them. The box came quickly and it was actually much smaller than I had expected. The curtains themselves were a very nice color (the close-up pic on the website) is pretty accurate. The fabric itself is not soft, they are made of very hearty material (and feel a little industrial), but then again they are hotel curtains so that is to be expected. These curtains are lined with a white plastic coating on the back to block out the light (and it definitely does that), but it means that you cannot iron them or have them dry cleaned (instructions say they can be washed & drip dry). Which is good for keeping them clean.

There are 13 pleats per panel, plus you need a hook for each end of each panel (30 hooks needed to hang both panels correctly, 15 per panel). The hooks they included with the curtains were a little on the short side, so we used the older longer hooks from our old curtains and that seemed to work quite well. Because the curtains were packed in such a small box, they were pretty wrinkled and when we first hung them they looked very puffy and pretty terrible. I suspect this is because the plastic on the back makes them quite stiff. After about a week and a half of hanging they relaxed quite a bit, they weren't as puffy, but still pretty wrinkled, so I decided to steam them. I only had a small hand steamer, so it took me awhile to steam them, but after a couple of hours working with the steamer and sort of shaping/folding the creases/pleats down the curtain (from top to bottom - doing it at the bottom is essential) they actually looked pretty good. They were still a tiny bit wrinkled and a little puffy, but I suspect after a few more days of hanging they will settle down & if I had had the time before our new tenant had moved in, I probably could have given them one more quick steam and they would look perfect.

So, yes if you are putting these in an elegant living room they might not be great, but if you have a rental or a basic nice home with kids - these curtains would hold up nicely - and yes, I would buy them again. And again, the price cannot be beat!