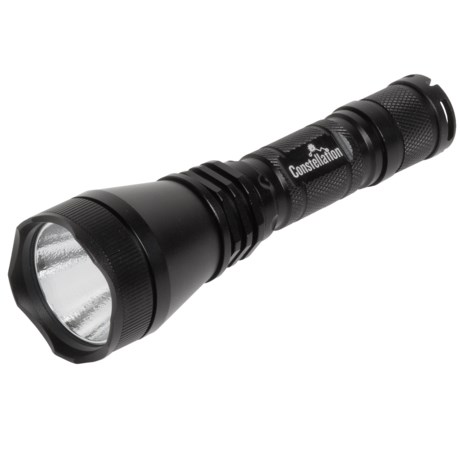 Brilliant
Verified Buyer
Reviewed by John S from The West of US on Monday, March 21, 2016
The flashlight appears to be very well made and performs admirably over the 100 or so yards I've tried it at night. The beam spread is fairly wide so I doubt it would be useful for illumination at distances anywhere near its max spec of 853 ft, except perhaps as a signal light.
The 18650 battery is rated at 2600 mAh. As supplied, it was very close to fully charged, at 3.76 Vdc. It is an "unprotected" Li-ion cell. I contacted the manufacturer at their website to try to learn the current requirements and whether a protected cell would fit - they're 1/8 longer and some are slightly larger in diameter. I did not receive a reply - I'm afraid what that might mean for service under the 2-year warranty. By my rough measurements it seems that the end cap/switch would not screw on completely if the longer battery was installed, and that would jeopardize its watertight integrity.
The light level can be stepped cyclically through a sequence of 4 successively brighter settings, then a bright strobe setting. One minor annoyance is that in turning it off then back on, it always indexes to the next setting. It takes 4 more taps to get back to where it was when you turned it off.
I haven't run it long enough to see if it protects its LED and battery by automatically reducing its intensity if they begin to overheat. The simplistic instructions that come with it make no mention of such a protective feature, which found on some high-end high-intensity flashlights, so I doubt it does.
The #1 issue the buyer must address is obtaining a separate charger, since it doesn't come with one. Also, having a second and possibly a third battery is highly advisable, since it takes several hours to recharge them. There are plenty available, sold primarily for vaping - e-cigs (yuk!). Since the cell is unprotected, it could be dangerous if mistreated, especially during charging, so a good charger with its own protection and auto-shut-off is highly recommended. The NightCore D2 is working very well for me. Also beware that there are unscrupulous suppliers of these batteries, some promising 5000 or even 6000 mAh (not possible) and delivering less than 1000 mAh. Best to stick with a brand name from a supplier with excellent ratings.
I also purchased the CE-Z1P from STP. It is only very slightly larger, with the same battery but a brighter LED. It is noticeably brighter at the high setting, which also means that its battery will be expended quicker. For the modest difference in price, I highly prefer the P over the R, but I'm keeping each of mine.
Most helpful positive reviews
Most helpful negative reviews
Similar items and more information in the following areas: