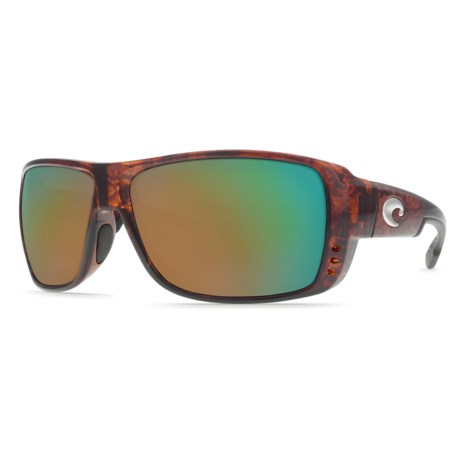 While I can not explain the verbiage in the product description, I can relate my own personal experiences.
Product sizing varies from manufacturer to manufacturer. The Costa Double Haul Sunglasses I just recently ordered fit me perfectly. I have a small hat size. The Double Haul frames are flexible enough to accommodate a more rounded shaped face. I have let a few friends try on the Costas to see the clarity of the lenses. The "flex" in the frames was not too tight for them.

The sizing is simply marked wrong in the product description. I have found this to be a problem with several different model descriptions of Costa sunglasses on STP. For example, the Hamlin model is listed as a Medium fit when the Costa website has it listed as an extra large. I own the Double Haul and can confirm they are a large fit. I have a large hat size, and I typically wear XL Costa glasses but the Double Haul fit me pretty well after extended use. I believe they have stretched a bit over time.