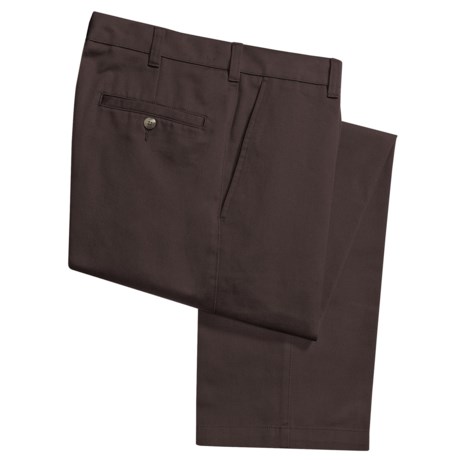 They are extremely deep. Come to think of it; they are the deepest pants pockets of all that I own. No problem doing any of these things. I promise this is not a factor in your fathers decision to purchase these pants.

Are you nuts? Do you really think I'm going to measure my husband sittng, bending, getting down on the floor. Sierra where the hell are your screeners.
Just splurge and take the old man to regular store for pete's sake.


I am not sure if all of these pants are the same or if they might be from different manufactures in the different sizes and color (I know mine are different between pleated and plain front). I would say that the pockets on mine are of "average" depth, though, about the same as an average pair of jeans or chinos but I also carry a "man purse" to carry anything that I don't want spilling out of my pockets.

Thank you for the prompt and courteous responses. They are helpful and very much appreciated; with the exception of one.

On a side note to Bette: You would benefit from the old adage, "If you can't say something nice...." Please spew your discourteous, rude and obtuse comments to those who love you, perhaps they do not mind, or are numb to, your crass language, disrespect and utter lack of consideration. My Father is an 81-year old Retired United States Air Force Major who bravely and tirelessly served his country for 21 years, has raised seven children (not all of whom are his natural children) and is one of the most honorable, patriotic, generous and humble human beings I have ever had the pleasure to know. It is my privilege to try to meet his needs and do the 'leg work' for him. Additionally, simple observation would suffice to provide insight into the depth of a pocket.
Madam, if anyone needs to be "screened," it is you.

Yes ,I like the size ...I have medium size hands and my hold hand up to the wrist area can fit...

My son says they're nice and deep.

I consider them sufficient, I carry a flip phone, keys, pocket knife, small pencil sharpener, finger nail clippers, ear plugs, LED flashlight and a book of matches and that is just in the right pocket. Occasionally when sitting some coins may fall out (left pocket) but not often. I hope this helps.