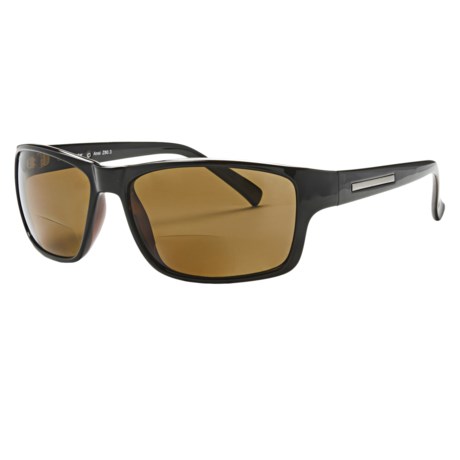 Hi. I am a very active 60 yo woman with a very narrow, small face. These glasses are great! They fit perfectly, even curve slightly around my face. Great clarity. I bike with them and hike with them. It's not so easy to find bifocal sunglasses so I may even buy an extra pair. You will love them!

I too am a small woman - five feet and a hundred pounds. I've also had issues with glasses fitting. My eyeglasses are child frames. I was very pleased with the fit of these sunglasses. No issues with falling off when I fish or hike. Very pleased!!

Wow thanks so much for your replies. I am also 5 1 and weigh 110. You helped me alot

I am not sure how to measure the fit. I have a normal to large face and they fit just right.

They're pretty standard-sized and not super large, so if most sunglasses fit you, these would probably be fine. I bought a pair for my wife and she likes them because they are not the wrap around style and therefore they don't distort her view.

I too am a woman with a small face. I measured the glasses as follows...the face area is 5 inches across, slightly curved on the sides to 5.5 inches at the temples. Each lense is 1.5 inches high and 2.5 inches wide.

They provide good eye coverage, they don't crease my cheeks and the bifocal area takes up only the lower inside part of the lense. How I lived without them I really don't know!

I hope this helps, and keep in mind that Sierra Trading Post is fast and efficient when returns are necessary.