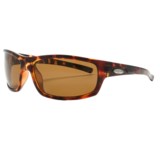 Closeouts. With a lightweight and durable Grilamid® TR90 frame and glare-reducing polarized lenses, the performance features of Coyote Eyewear's Razor sunglasses complement the sleek and stylish design.
Average Rating based on
27
reviews
4.222222
0
5
Verified Buyer

Reviewed by Ty from Athens, ga on Friday, November 17, 2017

Fits true and good lenses.

Verified Buyer

Reviewed by Ty from Athens, ga on Friday, November 17, 2017

Fits true and good lenses.

Verified Buyer

Reviewed by gorpgal from Colorado on Tuesday, August 8, 2017

Great price but OK overall. They fit crooked on my face. As someone else mentioned, they look a bit different than the photo and that is true. I got them for me but they fit my husband better so he's using them. I have a smaller face.

Verified Buyer

Reviewed by Larry from California on Saturday, May 27, 2017

I have been using the Coyote Razor sunglasses for over 5 years. My biggest problem is always losing sunglasses so these work well because they are inexpensive and yet provide great protection for my eyes. The polarized lenses do a very good job in reducing glare. The wrap around style also keeps wind and sand out of my eyes. I use these for driving, riding my bicycle, hiking and all around wear. They are light and unobtrusive that I can wear them all day. I keep an extra pair or two of these glasses around for when I lose one.

Verified Buyer

Reviewed by Amy, field biologist from Midwest on Saturday, March 18, 2017

I have a lot of trouble finding sunglasses that don't give me a headache. These feel great and don't look too sporty. Sierra trading post is the cheapest place I've found this model.

Verified Buyer

Reviewed by CH from Colorado on Wednesday, October 12, 2016

I purchased these sunglasses for my elderly, active father who is tough on glasses. The sunglasses have great polarized lenses, durable plastic composite and are lightweight. My father loves the glasses. However, the color is not as it appears on the Sierra Trading Post website. The glasses are tortoise shell, but very dark brown. The tortoise shell only appears in the sun or if the glasses are back lit.

Verified Buyer

Reviewed by Paperback Writer from Nashville, TN on Saturday, September 24, 2016

Needing a new pair of sunglasses, I was put off by the high price tag of "designer labels." I thought I would give Coyote brand a try. I am very pleased with my purchase from Sierra Trading Post. The 'Razor' sunglasses are well constructed and the frames have a substantial feel to them. As stated, they are polarized and a must for my personal use. The frames fit perfectly and are very comfortable, especially on the bridge of the nose. No nose pinch or skin indentations from prolonged wear. Would I purchase Coyote brand again? Absolutely. A great value for the money. William Beck - Author www.booksbybeck.com

Verified Buyer

Reviewed by Stanley Smedley from Washington on Saturday, January 16, 2016

These are on of the few polarized sunglasses I can wear. Great glasses

Verified Buyer

Reviewed by Alaska worker from Anchorage, Alaska on Thursday, August 13, 2015

Purchased these for my husband who is very hard on sunglasses due to his outside field work.
He loves these for their lightness. Fit him well. He has a smaller face. May not be the most durable due to their lightness, but for the price, great value.

Verified Buyer

Reviewed by Angela from Seattle from Seattle on Saturday, August 8, 2015

I buy each of my boys a new pair of sunglasses when they get their drivers permit. These are perfect. They fit well, are very light and stylish. Plus they keep the glare out of his eyes.

Verified Buyer

Reviewed by Robert in the Sierras from California on Monday, July 6, 2015

Hi,

Just bought these and had hoped that they would be nice sunglasses but was disappointed at the clarity of the lenses and they really don't polarize that well compared to other similar sunglasses I have owned. I would not bother to purchase these again even at a good discounted price.

Verified Buyer

Reviewed by PAngler from PA on Tuesday, May 5, 2015

Great sunglasses for every day and for fishing. I have a small head and these fit perfect. Broke my first pair and liked them enough to repurchase.

Verified Buyer

Reviewed by Greenmama from Colorado on Wednesday, April 29, 2015

These glasses aren't the shape they look in the picture. Yes they fit small faces from side to side but the lenses are rectangular and not the more sporty shape they look from the picture angle. Not what I was shopping for.

Verified Buyer

Reviewed by FVpickler from California on Thursday, April 16, 2015

This is the second pair of Coyote sunglasses I have purchased from Sierra Trading Post. Both pair have been comfortable and durable. They are light weight and have terrific lenses. I like the fact there are no separate nose pieces. In fact, that's the reason I prefer these over my Oakley Half Jackets.


Verified Buyer

Reviewed by Sassy Granny from Eastern WA State on Friday, April 3, 2015

My husband recently had eye surgery and needs to wear sunglasses anytime he's outdoors. These are perfect! They fit well, are lightweight and fashionable. Long after he's recovered from the surgery he'll be wearing them because they're now his new favorites.


Reviewed by Sassy Granny from Eastern WA State on Thursday, March 26, 2015

Several weeks ago I purchased Coyote Polarized Reading glasses for both me & my husband. We like them so well that my husband had me order non-readers for him. He loves them every bit at much! Like the other Coyote glasses, they're light weight, which makes them very comfortable. The tint is just right. And you simply cannot find a better bargain for this type sunglasses. He'll use the readers for fly-tying and other close up work, while using these for driving, yard work (yes ... it's THAT time of year again), outdoor picnics or sports events, etc.

Reviewed by Icenreaker guy from Southern Ontario on Sunday, March 22, 2015

Very light tint and poorly shaped arms that leave these bouncing before my eyes rather than sitting snug on my nose (I would never use these for activities other than walking or hiking). It seems all Coyote shades run large for my tastes. Decent but not great optics. Still I'll keep these for the cheap price.

I go through shades quickly (I'm not very careful with them), and I find the whole industry ridiculously overpriced for what these products are. STP used to have genuine deals in shades (like under $20 with discounts) but no more it seems. These are the cheapest available in a style I can bear, but really aren't my favourite for the stated reasons, and I think the last pair of Coyotes I'll buy.

Verified Buyer

Reviewed by TRM from Seattle, WA on Friday, December 19, 2014

What's missing is the non-slip rubber nose and temple pads--that most good sunglasses have these days. I think these will be sliding all over with sweaty activity unless I add the rubber myself.

Verified Buyer

Reviewed by FVpickler from Calif. on Thursday, December 18, 2014

Comfortable, light, look great! Like them very much.

Verified Buyer

Reviewed by Ike from Colorado on Saturday, December 6, 2014

I bought these as an experiment for online sunglasses. I generally don't like the big frame sunglasses that fill up your face from forehead to cheek. These are a little bigger than I usually buy but still pretty nice. A snug, but not too tight fit. Light for glasses that aren't "performance" glasses. I wouldn't wear them on my mtb or skinning but great for everything else. They fit well while wearing all the hats I have. Dark enough for snowy days and no weird glares from the polarization you get from cheaper sunglasses.

Verified Buyer

Reviewed by Sue from Chapel Hill on Monday, October 6, 2014

Great sunglasses for such a low price - thanks to Sierra Trading Post.

Verified Buyer

Reviewed by Wild Bill from Texas on Monday, September 29, 2014

So far very pleased. Very Good quality lens and frame for the money. Mine are the Amber lens and they are not too dark. I have a smaller face and they fit me well. Time will tell about how durable they are.

Reviewed by jaimee from Tahoe City, CA on Saturday, September 13, 2014

I don't know if I'll ever go back to cheap glasses. These not only cut the glare but make everything look really crisp. I'm buying a pair for my boyfriend too. Very comfortable on. I have kind of a wide head for a woman and these are just right. Flattering even! Maybe $200 sunglasses are even better, but for the money I'm really happy with these.

Verified Buyer

Reviewed by Dan from Georgia on Thursday, June 12, 2014

I've had good success with the Coyote sunglasses. They are not high end, but have good clarity, and you can't beat the price for this quality. I'm rough on sunglasses, so won't pay for the high end glasses when the clarity for these is very good.

Verified Buyer

Reviewed by Country Girl from IL on Monday, May 19, 2014

Light weight and very comfy. A little larger than normally wear, but they are worth keeping.

Verified Buyer

Reviewed by Arklahoma Traveler from Brussels on Monday, April 28, 2014

I purchased these for my wife. She wanted some tortoise frames with light colored lenses. These work very well for the overcast days that make you squint without glasses but is too dark for most sunglasses.

Reviewed by Math Teacher from Ohio on Monday, March 24, 2014

These glasses fit well and are comfortable. In order for them to be perfect, I would have liked them to be a bit darker.