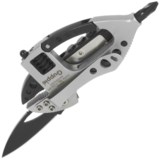 Closeouts. With an innovative, multi-tasking design, CRKT's Guppie Knife and Eat'N Tool combo proves to be a hard-working carabiner tool with dozens of everyday uses, including an LED light, bottle opener, spork and 2CR13 stainless steel straight-edge blade.
Average Rating based on
9
reviews
4.000000
0
5
Verified Buyer

Reviewed by Samiam from Coloado on Wednesday, December 31, 2014

My adult daughters both spend a significant amount of time backpacking and camping in the mountains outside of Durango, CO. I was looking for something that would be well made and useful, not just another Swiss Army knife kind of deal. I scored- they love it. It doesn't duplicate any of their other multi-tool gizmos and adds some very useful tools. Even without the utensils it's a great product, but they really thought that part was cool.

Verified Buyer

Reviewed by Mark Davis from Connecticut on Tuesday, October 14, 2014

This will come in handy if you need a small tool that can do a lot. The bits are held by a magnet, the knife is sharp and the wrench is good for small projects.

Verified Buyer

Reviewed by The Medicine Woman from Pennsylvania on Wednesday, September 10, 2014

Bought for my husband. He's going to love it. Tempted to buy myself one.

Reviewed by Fixitgal from Tennessee on Tuesday, February 18, 2014

This is a winner for number of tools but lacks a little in quality especially the adjustable jaw wrench which is a bit sloppy. The bit holder is held on by magnets and I fear will be lost soon unless I tether it through the ready made tether hole already there. The carabiner is a nice touch for quick access if you want to clip it on a belt loop or a strap. I tried fitting other hex bits into the driver bit socket and it was a snug fit but may loosen up with use. It was also very tight for using as a 1/4" nut driver. The battery powered light is bright and only stays on while the button is pushed. It seems like the button is recessed enough that it won't get turned on accidentally. The knife is not a lock blade but that makes it easy to open and close with one hand. I still have to give it five stars because it is so clever and for the price, you can't go wrong! The Eat 'N Tool is a bonus as I I see it. Not sure when I will use it since I probably won't carry it around in my pocket - but it will go in the truck for whenever.

Reviewed by Michael from North Carolina on Thursday, February 13, 2014

trying to do a little too much I think.

Reviewed by Wren from Boston, MA on Thursday, February 6, 2014

The carabiner attachment part is so small - I can't fit it on a the handle of my backpack - which is about ¼ inch in width.
The bits for the screwdriver fall off - they're only held on by a magnet - and are already fell off - lost - which makes this a not very useful too - just a small blade and a pliers. The spoon doesn't attach to the tool - that's a separate item - which I don't think was noted - for what it's worth - I won't be using it. I am very disappiinted with this - and if I still had the bits - I'd send it back - even at that - it wouldn't be worth returning unless I had other items to send back. This one is going into the trash - and I'm sad - it would have been not too hard to build this with the bits set into the tool itself - not attached to the side with a weak magnet.
CRKT usually makes very high quality and well designed knives - and tools - this didn't live up to their reputation. I don't recommend buying this.

Reviewed by Walking with the Hounds from Boise on Thursday, January 2, 2014

My brother is typically had to please with gifts but he thought this was pretty fantastic. He is going to attach it to his dry box for canoeing. I haven't seen it but he said the quality is good and the tools are surprisingly exactly what you would want for a weekend canoe trip.

Reviewed by Phil from Taos on Sunday, December 29, 2013

This is a unique tool and it does what its supposed to quite welll. Lighter and more compact than other multi tools, great for a backpacker or to have in pocket at work.

Reviewed by Kim from Ohio on Monday, December 16, 2013

The CRKT seems to be sturdy but the Eat'N Tool Combo did not have the carbiner attached to it. Had to request it to be sent.

The knife has many attachments and the LED light is very bright.

The Eat'N Tool is easy to use and has a lot of options.

Great for my backpack and light weight. Wish I would have ordered more than one.