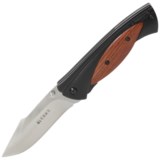 Closeouts. With OutBurst assisted-opening technology, a durable stainless steel blade and handsome cocobolo wood inserts, CRKT's Vertex folding knife is the perfect go-anywhere companion that easily clips to your pocket or belt.
Average Rating based on
5
reviews
3.600000
0
5
Reviewed by jmoore00 from mississippi on Tuesday, April 30, 2013

very handsome knife. feels strong, assissted opening mechanism does work, cuts balsa wood pretty well; but there-in lies the problem. it's chinese, there is little if any quality control, and the blade edge is NOT what it should be. can fix it if expert at precise sharpening methods. otherwise you'll have a dull piece of chinese steel, and will deserve it, sice now you've been warned.

Reviewed by Adam K from SLC, UT on Wednesday, April 17, 2013

As my other review stated, when I first received this knife it was unreliable and hard to open. I spent three or four days working it and applied a small amount of gun oil to the spring lever and now it operates beautifully.

Reviewed by Adam K from SLC, UT on Tuesday, April 2, 2013

The open assist feature is a failure on an otherwise good knife. CRKT needs to go back to the drawing board. What is the point of open assist if you're not sure it will open every time? There were also minor flaws in the construction of the handle, but I expect that for the price. I'm torn; giving two stars for the blade but thinking about returning it and salvaging my $18 on principle.

Verified Buyer

Reviewed by wolf from nj on Tuesday, February 12, 2013

The blade metal, which is the most important thing about a knife, is, to the relative layperson loosely comparable to 440c, my favorite. It may be a bit brittle, but it sharpens nicely. the assist is good and kind of satisfying snap. the handle is handsome but trying to be artsy, but not quite making it. The liner lock is effective, and overall well built. It is a bit small for me, as the whole thing, closed, fits in my hand unseen. I like something that I feel I can really get a grip on, and they tend to have 4" blades, this is about 3".but still useful.
The blade lock in stinks. there is a little thing on the thumb-stud that keeps the blade the blade from opening accidentally.it's annoying and makes the speed and ease of assisted opening pointless.
Now people say I do a lot of stupid things, so I'll say for the sake of liability that anyone that does the things I do are even stupider than me and are at their own risk.
The knife easily comes apart with small hex keys. there is a stud on the liner lock which pops into a hole in the base of the blade and secures it when the blade is closed. I took mine apart and ground off the stud. then the little do hickey on the thumbstud tends to rub the liner lock when you close it. this i simply set into the out position with a bit of metal from a pen spring. now it snaps open and closes smoothly and easily with one hand.
The removable pocket clip is on the blade end, like most knives, which I hate, makes for fumbling to turn it in your hand so the thumb stud is where your thumb is. I'll be turning it around and drilling the other end for screws so it's on the butt end. Ideally the clip would have a somewhat concave end so I can pull it out of my pocket with my third finger , easily, and the handle will be in my hand with the thumbstud where my thumb is, down and nearer to my body.
So long as I have some around, I'll be replacing the wood with carbon fiber, and drilling out the handle inner frame a bit to reduce weight.
Careful on screwing it back together. the metal is soft and should be little more than hand tight with loctite.
OR you can just call me a nitpic and leve it alone and be happy the way it is.

Verified Buyer

Reviewed by steelhead ken from BEND,OR. on Tuesday, February 5, 2013

great every day pocket knife.