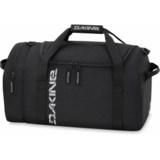 Closeouts. Find the right mix of durability, functionality and sleek looks with DaKine's EQ large duffel bag, a versatile travel companion that's built to keep pace.
Average Rating based on
61
reviews
4.573770
0
5
Verified Buyer

Reviewed by TravelRavel from Italy on Friday, March 24, 2017

Well made by Oregon cottage industry folks. Small stitches, heavy duty construction probably means long wear....ask me in a year, as this bag will get plenty of wear and....hoping little "tear". 4 stars simply because I'd have to be completely psychic to tell you how great it is yet....

Verified Buyer

Reviewed by S. Samawi from NH on Tuesday, December 13, 2016

I bought this bag to replace my older gym bag and this is perfect - it spaciously fits 3 of my martial arts gis' and still has space for more. So far appears to be sturdy!

Verified Buyer

Reviewed by Nccoonhound from NC on Friday, December 9, 2016

Easy to store and use. Just the right size.

Verified Buyer

Reviewed by Nccoonhound from NC on Friday, December 9, 2016

Easy to store and use. Just the right size.

Verified Buyer

Reviewed by Nccoonhound from NC on Friday, December 9, 2016

Easy to store and use. Just the right size.

Verified Buyer

Reviewed by Gumper from Cottonwood Heights, UT on Friday, December 9, 2016

I purchased the black with teal writing as a gift for my 13 year old skier granddaughter; it is so great looking & serviceable that I would love one. The zippers work great, will hold all her ski clothes/weekend outing clothes/& whatever extras she needs. The end zipper pocket will hold a lot of extras.

Verified Buyer

Reviewed by Gardening Mom from FL on Wednesday, March 16, 2016

Large single space lats me pack pants with one fold. Side pocket holds the things that would get lost.

Reviewed by LD from Washington, DC on Tuesday, March 15, 2016

I just got my DaKine EQ Duffel in the mail today and I must say I am pleased. The pattern (Lattice Floral) is lovely. The bag is extremely light weight but seems to be of good quality. I am unsure about the structural integrity of the zipper, but I am hopeful. I didn't realize that the whole thing folds into itself and zips into a small compartment. This is a nice feature. I am planning to take it on a week+ overseas camping trip and if it falls short of my expectations i will update this review...but again, I am hopeful!

Verified Buyer

Reviewed by markettius from New York on Monday, February 1, 2016

This duffle bag is perfect for traveling. You can pack a variety of items in this duffle bag and it can hold a ton of things. The material is excellent and having used dakine bags in the past I am certain this will last many years. I just love the quality of dakine bags, this one has a really cool U fold in design where you can collapse the bag to carry on or just pack within another bag or suitcase if you plan to bring presents or things with you from abroad. I got the lattice floral design and it is gorgeous! Overall this bag is fantastic!

Verified Buyer

Reviewed by MP the Missonary from Tennessee to Haiti on Monday, October 19, 2015

This bag is perfect. I love it.

Verified Buyer

Reviewed by Travelling Mom from Montana on Wednesday, August 26, 2015

A bit too big for a carry on, unless it's under stuffed. Worked well as a checked bag.

Verified Buyer

Reviewed by Steamboat Girl from Steamboat Springs, CO on Monday, August 10, 2015

Love anything made by Dakine. In the past, I have purchased many packs, including a ski bag and a yoga bag. Always love the amazing fabrics - colours and quality. This bag is no exception. It is quite large - bigger than I had anticipated, but works well for lots of gear for 4-5 days. I bought the blue and black floral print. Love it! Always happy with STP wick shipping and order accuracy ... and the prices of products cannot be beat anywhere else. A satisfied customer once again.

Verified Buyer

Reviewed by bill from folsom, ca on Tuesday, June 30, 2015

i bought a few of these, they are perfect for storing camping equipment.

Verified Buyer

Reviewed by Gjsweet22 from South Dakota on Monday, June 15, 2015

I needed a good duffle bag, but didn't want to pay a fortune for one. This was perfect I love, love the colors. I bought the black one for my husband.

Verified Buyer

Reviewed by Vacationer from Arkansas on Sunday, June 7, 2015

Durable bag and great for checking with airlines. We have 5 of these now that we use for checked bags when flying. They hold up really well.

Verified Buyer

Reviewed by Anonymous from Somewhere USA on Thursday, May 7, 2015

I needed a soft duffle for a week long trip on a boat and decided on the Large EQ Duffle. It's a decent bag, but not the most robust bag that other reviewers have made it out to be. It's more like a large gym bag to be honest. The material and build are good quality, but it's somewhat thin and the same goes for the straps and handles. It's only got two compartments, one large, one small, but otherwise there's no pockets or anything else. If you're looking for something soft to travel with then I'd suggest a backpack, roller duffle or something designed more for traveling. This is more suited for bringing gear on a camping trip, carrying sports equipment or hauling clothes to the laundromat....it'd be a great bag for any of that stuff.

Verified Buyer

Reviewed by HNLinSBN from South Bend, IN on Monday, April 27, 2015

Great quality with basic qualities of a duffel bag. It will compress, expand, whatever you need it to do. Classy Dakine style and quality. I've purchase all sizes of Duffels from small, medium, to large for various needs. You can't beat Dakine items that originated from Hawaii!

Verified Buyer

Reviewed by Vacationer from Arkansas on Tuesday, April 14, 2015

We have 3 duffel bags just like this one. They are rugged and hold up well even as checked bags when flying. We use these instead of "box" type luggage because they hold up much better.

Verified Buyer

Reviewed by Diana from New York on Friday, August 8, 2014

Bought this for my son to travel for college out of state--I think it will be perfect. The size is great as a weekender bag. The quality is nice and sturdy. Great product.

Verified Buyer

Reviewed by nani from Hawaii on Tuesday, August 5, 2014

Bought this bag for weekend trips for island hoping and didn't realize how big it was till I got it in the mail. I ordered two different colors. As usual da kine is great quality. I'd suppose if I don't stuff it, I'd be able to use it as a carry on as I anticipated.

Verified Buyer

Reviewed by Billv from castaic, california on Tuesday, July 29, 2014

Bought this bag in the Hood color, looks great. I bought two other dakine items to match, all in the Hood color.

Verified Buyer

Reviewed by Ashley from Washington on Wednesday, June 18, 2014

Really a useful size. Feels pretty high quality. For the price you can't beat it. I like the zippered pouch on the end. It's a great place to store shoes away from whatever else is in the bag. I bought 2 of these.

Verified Buyer

Reviewed by Nomad from Northern California on Tuesday, June 10, 2014

Will be returning this as this is much too big to carryon a plane.
My suggestion would be for STP to start including dims when they can.
This bag is more than 30" long.
Good quality but does not meet my needs.

Reviewed by The sock dude from New York on Wednesday, July 31, 2013

Very hardy bag - solid zippers and seemingly great workmanship. This will likely be good for carry-on as well, but the significantly larger X-large bag will be too big. But that bag holds a ton!

Reviewed by MamaEwalt from Fargo, ND on Wednesday, July 10, 2013

Wonderful bag. It is nice and large and has heavy duty zippers. We bought one of each size for each member in our family! Love this duffle!

Verified Buyer

Reviewed by Saavy Mom from CA on Thursday, February 7, 2013

This is a wonderful bag. It is very light weight, and can easily be folded up and carried inside a suitcase for extra capacity as needed. I am sure I will find many other uses for it as well. The pattern is very attractive. I bought all three sizes! The small and medium sizes can be used as carryon bags for air travel.

Verified Buyer

Reviewed by L-Phunk from Milwaukee, WI on Monday, December 31, 2012

nice size/quality

Verified Buyer

Reviewed by cloudwalker from Seaside California on Sunday, December 16, 2012

Its big.
It has a zippered pocket which is nice.
Its tough yet light wieght.

Verified Buyer

Reviewed by Just wanna workout from MT on Tuesday, November 20, 2012

If you are looking for a gym bag, do NOT get the large size unless you are ridiculous about how much stuff you bring there (10 towels, 5 outfits, 5 pair shoes, a laptop, +). I got this bag for the gym and it is way too big. It also doesn't have a hard liner on the bottom like many gym bags do.
On the good side, I can put all my snowboarding equipment in there including boots, coat, pants, helmet, goggles, and more. So, I guess I have to get another one for the gym.

Verified Buyer

Reviewed by Equinelady from Santa Barbara, CA on Wednesday, November 14, 2012

Pleasantly surprised by the quality for the price. This is a trusted brand by people I know who are professional water sports enthusiasts. Dakine is durable gear, big enough to actually hold a good deal of stuff. LOVE the design/color, and would easily recommend this to a friend. Versatile enough for land sports folks too!