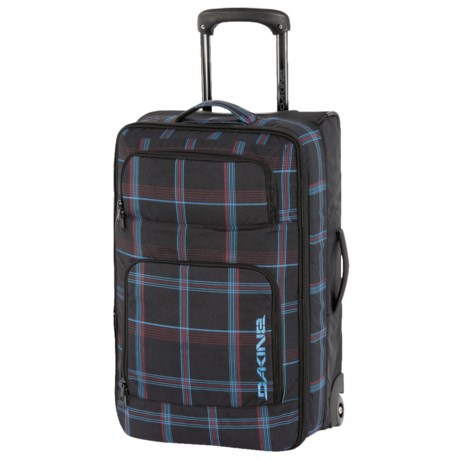 Quality construction, but BEWARE of terrible design flaw!
Reviewed by mofo83 from Seattle on Friday, December 5, 2014
This bag is great for a lot of reasons – huge/tough YKK zippers, solid handle, smooth/easy to replace wheels, handy exterior pockets (that don't affect interior space), handy interior mesh pocket, nice fabrics, nice price, exactly the largest allowable dimensions for a carry-on (from what I read.)

There are only two negatives I can see. One, it seems very heavy for its size. This doesn't bother me that much, since I'm usually rolling it.

The other problem is very troublesome design flaw – the bag won't stand up about 75% of the time when totally full, and NEVER stands up when its not full! This is because the bag is constructed in two "halves" – the rigid bottom/back half that has the wheels and handle attached, and a "soft" upper/front half that has the "lid" and the exterior pockets attached. This soft half actually "folds inward" when not in use, which could be handy for tight storage situations. The problem is that the feet that keep the bag upright are attached to the "soft" upper/front half; when you try to stand the bag up, because the feet aren't attached to the rigid frame, there is no support and the bag tips forward! If you absolutely packed the bag to the brim, you might be okay since the weight of the clothes would keep force the feet into place. But anything less than that level of fullness, and you'll be dealing with a tippy bag.

This is very disappointing, because I really like the bag otherwise. I can't believe all the five and four-star reviews, given this issue, unless I'm missing something or I received a faulty bag? I'll try to find out.
Most helpful positive reviews
Most helpful negative reviews
Similar items and more information in the following areas: