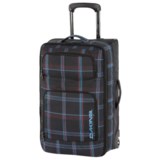 Closeouts. Navigating the terminal is a cinch when you have the DaKine Overhead rolling suitcase moving with you. The spacious interior and exterior pockets provide plenty of organized space to outfit your next getaway.
Average Rating based on
21
reviews
4.476190
0
5
Verified Buyer

Reviewed by Band Mom from Charlotte on Monday, October 12, 2015

This is the 2nd Overhead roller from Dakine that we have purchased. Also have the Over-Under which is now too large (if they check sizes at gate) to carry on. Fits a ton of stuff, has outside pockets - which the hard sided carry-ons do not. 2 wheel roller, rolls easily, handles on top and side make it easy to carry.

Verified Buyer

Reviewed by AnnO from New Hampshire on Saturday, August 29, 2015

Dakine luggage is made well, user friendly, and attractive. Our whole family uses them. The Sierra Trading Post prices make these affordable.

Verified Buyer

Reviewed by Frequent Traveler from Atlanta on Tuesday, August 4, 2015

Although I've not used the bag yet, I can tell you it shipped quickly and was packed well, the size is perfect for use as an overhead carry-on bag, the color is exactly as it looks on the picture and the quality of the bag appears excellent. We've had great experience in the past with DaKine bags and I expect he quality and functionality of this bag to be the same. I'll update the review after having used the bag.

Verified Buyer

Reviewed by FLG from New York on Wednesday, July 1, 2015

Fantastic! Good looking and a great price.

Verified Buyer

Reviewed by Mel from Nevada on Wednesday, April 1, 2015

Very nice luggage..stylish!

Verified Buyer

Reviewed by bill from folsom on Wednesday, December 31, 2014

well made, and i know it lasts, cause my wife bought one about a year ago. fits all overheads in all USA airlines (without hassle from check in).

Verified Buyer

Reviewed by K from South Dakota on Saturday, December 27, 2014

Very nice piece of luggage for the price!

Reviewed by mofo83 from Seattle on Friday, December 5, 2014

This bag is great for a lot of reasons – huge/tough YKK zippers, solid handle, smooth/easy to replace wheels, handy exterior pockets (that don't affect interior space), handy interior mesh pocket, nice fabrics, nice price, exactly the largest allowable dimensions for a carry-on (from what I read.)

There are only two negatives I can see. One, it seems very heavy for its size. This doesn't bother me that much, since I'm usually rolling it.

The other problem is very troublesome design flaw – the bag won't stand up about 75% of the time when totally full, and NEVER stands up when its not full! This is because the bag is constructed in two "halves" – the rigid bottom/back half that has the wheels and handle attached, and a "soft" upper/front half that has the "lid" and the exterior pockets attached. This soft half actually "folds inward" when not in use, which could be handy for tight storage situations. The problem is that the feet that keep the bag upright are attached to the "soft" upper/front half; when you try to stand the bag up, because the feet aren't attached to the rigid frame, there is no support and the bag tips forward! If you absolutely packed the bag to the brim, you might be okay since the weight of the clothes would keep force the feet into place. But anything less than that level of fullness, and you'll be dealing with a tippy bag.

This is very disappointing, because I really like the bag otherwise. I can't believe all the five and four-star reviews, given this issue, unless I'm missing something or I received a faulty bag? I'll try to find out.

Verified Buyer

Reviewed by Band Mom from NC on Wednesday, November 12, 2014

Purchased this after buying the larger "over/under" bag by Dakine, as the 1st bag was really too large for overhead bins. More spacious than other carry-ons. Someone did comment that the wheel wells are exposed to the interior, this is true, but they are covered by a layer of padding, so not an issue to me. Fabric is sturdy, bag is well designed.

Verified Buyer

Reviewed by Blutooth from US on Tuesday, June 10, 2014

It was hard to tell how large this bag was. The overall outside dimensions would have been very helpful. It was too big for my purposes, so I sent it back.

Seemed well constructed and durable though.