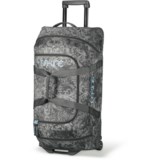 Closeouts. Go large on your next world tour with the DaKine rolling duffel bag. Zip end pockets and a U-shaped opening provide easy and quick access to your gear, and the durable wheels make navigating airports a breeze.
Average Rating based on
17
reviews
4.647058
0
5
Verified Buyer

Reviewed by Jonny from Portland, OR on Monday, July 13, 2015

Very pleased with the quality of this bag and the great savings from STP!

Verified Buyer

Reviewed by Austin Gal from Austin on Saturday, July 11, 2015

I ordered this for my husband in the camo pattern and he was very pleased with the looks and the style of the duffle bag. There is plenty of storage and it rolls really well. Great buy!

Verified Buyer

Reviewed by Jmrossco from Lowell, MA on Sunday, March 29, 2015

I actually first saw this product while traveling in Belgium. I almost bought it at a sports shop while I was there but figured I would wait until I got back to the States. Sierra Trading Post had the best price I could find after doing some research. The bag is all I could have hoped for; plenty of room and great style to go wit it. I would recommend this product to anyone who is a frequent traveler.

Verified Buyer

Reviewed by KateMN from Minnepolis on Friday, October 31, 2014

I am surprised at how much will fit in this bag and yet it is lighter than others I own that are smaller. Features that may be a plus, may be a minus for you: there is no shoulder strap (maybe kind of big for that anyway); there are no little side pockets for small items like chargers or the like. The end pockets impinge a bit into the internal space, but less than other similar bags I have owned. The handle and rollers are sturdy and it will stand up on its own if you have the bottom pocket filled. I would definitely get another if I thought I needed one.

Verified Buyer

Reviewed by markus from montana on Thursday, October 23, 2014

Great side pockets and perfect size

Verified Buyer

Reviewed by markus from montana on Thursday, October 23, 2014

Great side pockets and perfect size

Reviewed by KateMN from Minneapolis on Tuesday, October 21, 2014

I can't rate it a 5 yet since I haven't put it to the test, but I suspect it will be. It seems lighter than a slightly smaller rolling duffel I already own. It is really simple and clean in design, with large side pockets and what I hope is a durable wheel/handle system. There are no accessory pockets on the outside and no shoulder strap - just FYI.

Verified Buyer

Reviewed by Fix It Mom from California on Wednesday, August 27, 2014

I got this after purchasing a similar product at a local store. It fell apart after 2 uses. I have not used this yet, and to be honest, hate to as it's just too nicely made. However, it is very sturdy, the wheels look solid, and the bag has support, so while rolling down through the airport, it won't have the insides fall to the bottom, causing the fabric to drag on the ground (like the one now in the trash). The size is good. Another thing, with that other bag, it was so big, that there was no way one could fill it up and have it be less than 50 lbs (unless filled with popcorn or pillows). This size looks like it will accommodate the right amount of clothes in terms of quantity, volume, and weight. I will update my review once I've used this on a plane. I got the print, and it's really nice.

Reviewed by pabeans from PA on Thursday, March 6, 2014

We usually drive for ski trips, but this time we flew. We bought two bags, one for each child. Each bag held junior-size snow boots, ski boots, helmet, jacket&pants, long underwear, gloves, all their clothes, toiletries, and anything else they brought for a week of skiing. Even crammed in one adult ski boot in each bag. So the size was good. The bag weighs about 9 lbs, but even so, we didn't go over the weight limit.

It rolls easily and quiety. The striped pattern is easily identifiable at the luggage carousel. The bag stands up on end without a problem. The zippers worked pretty easily. I wish the straps were an inch or so longer -- when fully packed, you have to pull hard to close the velcro around the straps.

We've used the bags for just one trip, so I can't comment on durability. But having wheels was much easier than our old duffels, which do not. Not sure if we'll like the wheels as much when we're driving and not flying.

Reviewed by mike from NH on Tuesday, February 11, 2014

No doubt this bag is an excellent deal. Good quality at a good price.
I have a problem with it though. Had I known , I would not have bought it (too expensive to return). This is a large duffel at 30 in. long. I expected to have this length for storage of items like trekking poles, tent, etc. Not so, the pockets at each end do not open from the inside and therefore take up valuable length need for storage of longer items. Even if one end storage compartment could open to the inside or wasn't there, this bag would be far more usable for the type of travel my wife and I do.
Also, I will not be able to fit my backpack in it for travel backpacking trips. This is a big deal for us.
I do not recommend this duffel if it is to be used for travel involving camping, hiking, backpacking.