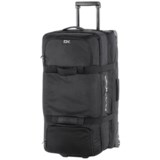 Closeouts. When it's time to split for a little extended travel, DaKine's Split Rolling suitcase is just what you need to transport your clothes and gear. Thanks to a wheeled design and split-level construction, this suitcase travels smooth and allows easy access to all contents.
Average Rating based on
61
reviews
4.688524
0
5
Verified Buyer

Reviewed by Rick from Michigan on Monday, September 12, 2016

Not a carry on bag. I am using it for a 10 day trip to Japan. No concerns.

Reviewed by Ewka from New Hampshire on Thursday, August 11, 2016

I have the smaller version of the split level bag - yes, a larger version does exist! I travel frequently and often make 3-4 week trips to Europe 3-4 times a year. I stuff this bag TO THE MAX everytime and have only gone over the weight limit once at 53 lbs and was allowed to check it as is anyway. The split level is awesome, with three mesh enclosed pockets that can organize separate things and a large bottom compartment. I must admit that I wasn't expecting the bottom compartment to be so shallow - but as long as you are a smart, resourceful packer, this suitcase is awesome! I went back and forth and back and forth between the smaller size and the larger size suitcase. But if you stuff the smaller one, it should be more than enough room. Some Cons - like I mentioned above the bottom compartment is a bit shallow, but manageable. It can topple over if its too heavy. And actually thats all I have to say! The larger suitcase stuffed to the max I would imagine would be too heavy for most airlines. Its a great buy and wonderful patterns :)

Verified Buyer

Reviewed by Diane from California on Thursday, July 21, 2016

I normally don't write a review, but after returning from an international trip and using this suitcase, I feel compelled to. I loved the compartments and roominess of the bag, but when all is said and done - a 10 lb bag to start with is way too much. We happened to stay in apartments that were on 3rd or 4th floors with no elevators. In and out of trains was also problematic. My back went out during our first stop. Loved the bag's sturdiness and the wheels were great on the cobblestones, but I'm on the hunt for another suitcase.

Verified Buyer

Reviewed by Losfew from The Ozarks on Thursday, July 14, 2016

My wife travels for work 10-12 times a year and has been rocking one of these since 2012, so when I was due for a freshie it was a no brainer. I just loaded mine for 12 days of international travel including all my 3-season UL backpacking gear, and it swallowed it no problem. Weight was right at 49lbs and it handled like a champ. Would definitely recommend.

Verified Buyer

Reviewed by Sandra the runner from Michigan on Friday, July 1, 2016

perfect not small no too big, but 1 person, 5 days trip.

Verified Buyer

Reviewed by Sandybeach from Colorado on Thursday, June 30, 2016

I purchased one of these to go to Europe last year for correct sizing. Love it so much I now have all three sizes. There light, easy to organize, and easy to pull.

Verified Buyer

Reviewed by Rob from Great Neck on Monday, February 8, 2016

Even though it is labeled "small", which it really isn't, it is really the perfect sized bag as if you fill it up, you will surely be above the 50 pound weight limit most airlines impose. The bag is sturdy and well made. On sale, it is at least $60 cheaper than any place else I saw this bag advertised(even Amazon). Great deal.

Verified Buyer

Reviewed by Gail when not hiking from Upstate New York on Wednesday, February 3, 2016

This bag is nice and large. It has several compartments, and both a strong zipper as well as buckles to keep it closed. Very well made. Great for when you are not traveling light.

Verified Buyer

Reviewed by ohyeahkate from Washington on Friday, August 28, 2015

I knew this would be a great suitcase! I have a Dakine duffel, and it is great quality so I knew this would be no different! Just as pictured and great quality.

Verified Buyer

Reviewed by SP326 from California on Thursday, August 27, 2015

Just got back from a 2 week trip to Hawaii, and used this "small" suitcase to pack for myself and 2 young kids. It held everything comfortably and had room to spare for our gifts on the way back. The netting on the inside is stretchy and accommodates a lot. I did not have the problem of it tipping over, but I was mindful to pack heavier things on the bottom. The straps on the outside were great at compressing, and there are thoughtful details like an elastic band to keep loose straps down. My husband commented that he like the many straps on it, made it easy to lift off the carousel and in and out of the car. My kids like that is is a distinctive color (we got the red/blue one, looks like it may be sold out now) so they can spot it easily. It held up great on this one trip (no wear and tear to the nylon part, slight scratches on the plastic footing, but more likely from me dragging it on a sidewalk or something). I highly recommend it, and am thinking of getting another for my husband.