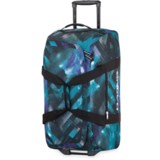 Closeouts. Durable fabric in bold patterns and convenient carrying options make DaKine's Venture 60L rolling duffel bag the perfect choice for weekend trips.
Average Rating based on
15
reviews
4.733333
0
5
Verified Buyer

Reviewed by David Y from Waltham, MA on Tuesday, May 30, 2017

This bag has survived about two dozen airport trips going through check in luggage procedures but doesn't look it will last another dozen. Its got cracks in the plastic and some fabric tears. I was impressed with the durability of the carrying straps and handle but everything else is failing. I liked the bag for its space and overall lightweight features but it has not proven durable for my use as a check in and wouldn't recommend using this for airport travel.

Verified Buyer

Reviewed by Fly Fish 77 from Illinois on Monday, February 22, 2016

The bag is well made and looks good.

Verified Buyer

Reviewed by Outdoors Rose from Blue Ridge Mountains, VA on Tuesday, September 22, 2015

Love this DaKine Duffel Bag! Cannot wait for my next adventure!

Verified Buyer

Reviewed by Mountainman from Africa on Friday, September 4, 2015

Pretty much exactly what I was expecting from Dakine. I have a lot of Dakine products and this bag is a perfect addition to the travel arsenal. I was able to fit enough clothes for a month long trip topping out at 45lbs and it's perfect. Highly recommend it.

Verified Buyer

Reviewed by SeattleMom from Seattle, WA on Saturday, August 22, 2015

This duffel bag is perfect - just the right size for a longer trip (or a weekend if you bring lots of clothes). I love the roomy interior - there are 2 very small separate pockets for tiny things. It's solid (which means heavier wheels) with a sturdy zipper.

Verified Buyer

Reviewed by Jeff from Oklahoma on Monday, August 3, 2015

I prefer duffel bags for travel and decided it was time to add wheels. This is a well made duffel and looks very durable.

Verified Buyer

Reviewed by amy the diver from SC on Monday, June 29, 2015

I am going to use this as my scuba dive bag for the upcoming year of travels - it's lightweight - wheels appear sturdy

Verified Buyer

Reviewed by Happy hiker from Western nc on Thursday, June 11, 2015

Getting ready for a 12 day trip so needed a bigger bag. Really like this bag seems very well constructed. Will know more after the first use. Good products for the $$$

Verified Buyer

Reviewed by John the Biker from Quad Cities, IA on Tuesday, May 12, 2015

Haven't yet had a chance to use this product, that will come next month, but by feel and looks, I'm thinking this will be a top notch bag. Would of liked more "vibrant" colors in order to pick it out amongst the sea of RAGBRAI luggage.

Verified Buyer

Reviewed by If you want $100.00 a set,,,buy $100.00 a set towels and wash rags aND HAND TOWELS from Canton,Ohio on Monday, May 4, 2015

We bought this to add to our collection.I believe it may have moved to the "front of the line."

Verified Buyer

Reviewed by Trace from WIsconsin on Wednesday, March 11, 2015

I bought this for my son as he prefers duffels over suitcases. He said there is lots of room and seems like a good sturdy bag. Will be perfect for his upcoming travels!

Verified Buyer

Reviewed by Kristin Fletcher from Shelby, North Carolina on Thursday, November 20, 2014

I actually ordered this duffel bag for my nine year old daughter for Christmas. We take an annual ski trip after Christmas and this is the perfect weight and size for her to carry ski clothes, etc. It's a very attractive bag and one that should last her for years. We are very fond of the Dakine products in my family and have ordered these duffels before for other family members. They are very durable.

Verified Buyer

Reviewed by Gorilla Gal from Missouri on Tuesday, September 30, 2014

I used this on a 9 day trip. Lots of room, I had more than enough room for my clothes, toiletries and assorted items. Rolls nicely, looks great, what else is there?

Verified Buyer

Reviewed by iluvkitchengadgets from colorado on Monday, June 23, 2014

This bag seems heavy duty enough for extensive travel! I look forward to taking this bag on me on my next adventure

Reviewed by Norcal Hillperson from Northern California foothills on Wednesday, November 6, 2013

I wasn't sure about this when I ordered it, but DaKine always has really nice stuff. It's bigger than I thought it would be--you can really cram a lot of stuff into this but keep in mind it's really a dufflebag = one big compartment--It's not divided like a wheelie suitcase. Nice, well-thought-out handles to grab onto as you switch from wheels to lifting, etc. and well-constructed. I love all my DaKine backpacks and duffles so far. Great price. Thank you Sierra Trading Post.