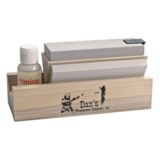 2nds. This knife sharpening kit from Dan's Whetstone features a tri-hone system, utilizing one coarse carbide stone, one soft Arkansas stone and one hard Arkansas stone to suit all of your sharpening needs.
Average Rating based on
39
reviews
4.692307
0
5
Verified Buyer

Reviewed by MA from MD on Monday, April 17, 2017

The product was not as stated in your ad as 7-1/4" length stones, they were only 5". Aside from that, the smaller stones work well on my smaller knives, and the sale price was enough to keep me from returning the items for a refund.

Verified Buyer

Reviewed by CH from Denver on Monday, April 3, 2017

These stones seem to be perfect for pocket knives, clipper blades or any other small tools. The quality of the stones and the option of having three different grade stones at this price point makes this kit a good entry level or portable option.

Unfortunately, I was looking for some finer grit stones to sharpen straight-edge razors. The width of the stones is also much narrower than the product description, which gives the dimensions of the whole unit rather than just the stones. The narrow width of the stones is what ultimately led me to return the unit.

Nevertheless, this is a great kit for the price for someone sharpening an every day carry or other small tools.

Verified Buyer

Reviewed by leisure coach from So. Cal. on Thursday, February 9, 2017

This set of whet stones is ideal for sharpening your knives. easy to follow instruction and a handy sharpening angle guide take the guess work out.

Verified Buyer

Reviewed by Logan from Asheville on Wednesday, February 8, 2017

This is my first arkansa stone kit. Can't beat the price and it worked great for
My pocket knifes, fold out and fixed blades. Maybe too small for big kitchen knives though.

Verified Buyer

Reviewed by Rusty37 from Minnesota on Thursday, January 26, 2017

For the price, this is a great set. I've sharpened several knives already and it does the job well. The angle guide is helpful.

Verified Buyer

Reviewed by Some Guy from Colorado and Beyond on Wednesday, January 11, 2017

These are the smaller 6'' tri stone set from Dan's, not the longer 8'' set. Sharpened everything from AUS 8 to CPM S30V, and some 1095.

I've been using sharpening stones since I was a boy so I have a little experience on the topic. I also did a lot of research before deciding on a mobile set of stones to take hunting, fishing, camping, and on other general outdoor adventures. I decided to go with the Dan's stones because I read a lot of good things. Well, I am definitely not disappointed! These stones are a great size to take with you wherever you are going, use in the garage on a bench, or at the kitchen table (if your wife let's you). I was able to take a fresh grind from an 80 grit belt and turn it into a shaving edge. I also sharpened a factory sharp Spyderco, let's just say it turned out ridiculously sharp. I've also touched up a couple kitchen knives that have seen heavy use, and my beater EDC blade (SOG Aegis). Anyway, these are great stones and Sierra Trading Post has the best possible price I could find online by about $15 USD.

Also, they sell a small plastic ammo box online or in store that fits this set of stones perfectly, with room for your mineral oil, stone pad or mat, and a stropping belt. The box is usually called something like "30 caliber ammo can" or similar; inside dimensions: 3.4"(L) x 8.9"(W) x 6.1"(H).

Verified Buyer

Reviewed by o/u cincy from Ohio on Friday, January 6, 2017

Fairly large stones. Nice set up, all in one.

Verified Buyer

Reviewed by islandtimeonly from Puget Sound on Monday, December 26, 2016

Three young adults sharing a place, all of whom like to cook, and between whom already have a darned good kitchen, to be fair. But they've all had a few different house/apt mates, as is common in one's twenties, and lost a few things or had them accidentally trashed, as well as the mistaken loaning we've ALL done at ALL ages... great knives, and not one decent sharpener... ;) Mom saves the day/kitchen/resident chefs! It's beautiful, seems very professional, and they've all three done their h/w, and love it! Again, Mom scores! And it's not prissy, so it's a cool gift for anyone!

Reviewed by Neeman from Israel on Wednesday, December 14, 2016

A set for my son in law that will teach him how to sharpen
A very good useable range of stones
A very simple setup and easy to store
Decent size stones to sharpen larger kitchen knives
I will be using window cleaner as lubricant as it is much less messy than oil
I recommend this for all levels of sharpening skills


Verified Buyer

Reviewed by DjS from Michigan on Sunday, November 27, 2016

Just what the doc ordered!
My axe's and knifes thank you!
And you can't beat the price, another great deal from STP!