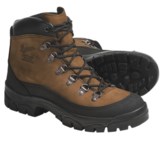 Closeouts. Designed to take on the toughest terrain and conditions the U.S. Army encounters, Danner's Combat Hiker Gore-Tex® military boots are extremely durable and completely waterproof breathable.
Questions about this product? Get answers from community and staff experts.
Question
(10 Questions)
Answer
(11 Answers)
"My daughter is a size 3, so I was going to get her this boot, but I am not sure which width to get. We had her foot measured and she is a 13 width in children's sizes...can you help please?"

The widths are as follows: (Based on size 3)

D = 8cm
EE = 8.25 cm
EEE = 8.5 cm

"Hi: I am confused by the size you gave,a men have the size 3' ? I checked the website of danner,I thought the 3' was the height,not the length.So could check it again and tell me the size(length) of the boot?"

The size on this item has been double checked. These are a men's size 3 and 3.5, women's 4 and 4.5 that we have left available. We have sold out of all larger sizes. The 3 will fit a 20.8 cm and the 3.5 will fit a 21.3 cm foot.

"Hi. The size shown here is US size, correct?"

The sizes displayed are US shoe sizes.

"I'm a EU36, 23cm.
should I get a US3.5 or US4.5?"

A EU36 is a US men's 4.5.

" these size 3, 3.5 show for how long feet? My feet is 22cm"

The 3 will fit a 20.8 cm and the 3.5 will fit a 21.3 cm foot.

"the sizes you show available are 3, 3.5, 5, 5.5? am I missing something?"

These are the sizes that are available. Due to the nature of the closeout business, we often receive items in limited quantities. Therefore, popular sizes and colors can sell out quickly. Occasionally we are able to reorder a product, but closeout items are typically unable to be reordered.|Unfortunately we are currently out of this item, but we suggest signing up for the My Updates as the best way to monitor incoming products. You will receive email notifications of our newest stock items. You can also access the "New Items" section of our website at anytime. New Items are all products that have arrived within the last 21 days. |http://ww2.sierratradingpost.com/newproducts~21/|http://ww2.sierratradingpost.com/myupdates/myupdatessignup/

"Is size D for a narrow foot and EE for a wider foot?"

'D' is usually a medium width while the 'EE' is for a wide foot. A 'B' or 'C' width boot, if you could find it, would be a narrow width. I have narrow feet and it is a challenge to find a narrow width boot. Sometimes a thicker insole will take up enough interior space to help.|The Danner website will have information on what last the boot was built. (Look under 'Size & Fit') Some lasts are better for folks with narrow feet. Good luck with your search!

"Which size would be equivalent to a women's size 7.5?"

If you hover over the sizes available a tap will appear and provide you with the correct numeric sizing. I hope this helps. I believe a 6.5 (M Size 6½, F 7½) would work out great for you.

"Can the boot be used as a wading boot? I wear a size 15 street shoe & am looking for a size 16 wading boot w/o paying an arm & a leg. I want quality & durability that will last more than 1 season. I wear the White River Fly Shop® Breathable Waist-High Stocking-Foot Waders with neoprene booties with attached gravel guards, and safety waist belt from Bass Pro Shop, size 15. I have a pair of size 15 waterproof boots but with the bootie, they are too tight.||I am looking for at least a size 16 boot so I can get back in the streams of PA come spring!...Please help. People with XTRA large feet deserve to fish too! THX||Regards,||Ray A. Leist|215-350-3971|ray.leist@us.army.mil"

I would not recommend using the Danner Combat Hiker Gore-Tex® Military Boot as a wading boot. That does not mean you cant, but using it as a wading but is not what it was intended for.

"I am a longtime frequent customer.||I just purchased these boots. They look well made as the Danner Brand is known for. ||I do not see anything indicating that they are Gore-tex as advertised. There are no Gore-Tex labels on the box or on the boots.||I need to know if I should waterproof or not.||Are they really Gore-Tex? Doesn't Danner put GTX on their label and the Gore-tex logo on the boots?"

The Danner Combat Hiker Gore-Tex® Military Boots does have the Gore-Tex® waterproof breathable membrane in it. I am unsure why there is not Gore-Tex advertising on the boot's. The only thing I can think of is that Danner worked something out with Gore-Tex to keep their boots advertisement free.

They are waterproof, but not from goretex. The build of the boot is single piece leather with quality stitching. You will need to treat the leather over the years to keep it supple. This should maintain waterproofness. I wore these boots into the Glastenbury Wilderness of Vermont (an overgrown area of beaverdams, bogs, and swamps) and my feet stayed dry.