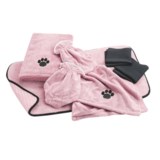 Closeouts. A convenient way to keep man's best friend clean and dry. DII's Bone Dry Microfiber Pet Towel and Mitt set includes microfiber towels that pull moisture from your pet's coat, oversized dog mitts, two mesh paw cloths and a non-skid bath mat.
Average Rating based on
22
reviews
4.500000
0
5
Reviewed by runnerMom from Indianapolis, IN on Thursday, July 18, 2013

I bought one for myself, then bought a second for a friend. Very cute, and functional. The mat is good for a bathmat, but my daughter's small dog loves just laying on the mat. because it is soft The towel is absorbant and very useful. My dog likes the towel because she knows it is hers. The mit is great for paws. My dog "freaks out" when you try to dry her feet with a normal towel, but the bath mits work well and don't intimidate. Very pleased!

Reviewed by Hannahs's Keeper from Wisconsin on Wednesday, July 3, 2013

These sets are really cute. We bought two - one for our own dog and one for our friends. The two charcoal colored clothes in the pack have left dark marks on the pink items. It does not seem to be washing out. Had I realized that, we would not have bought these.

Reviewed by southernbelleV from New Mexico on Thursday, June 6, 2013

This set is a great value for what I paid. The two towels and bathmat are thick and very soft to the touch, and helped to dry my puppy quickly. The mitts are helpful in bathing my little bath-hating Max. The two paw cloths are great for cleaning his dirty little feet, and rinse clean easily. The black cloths did leave a black mark on one of the towels, but it faded somewhat after washing. Even if I were giving this set as a gift, I wouldn't be deterred by that small issue. It's not like the towels will be on display in my guest bath! I'm very happy with this high-quality set and would recommend it to anyone.

Reviewed by Cat woman from PNW on Monday, June 3, 2013

This set is very cute and also an excellent bargain. One of the mitts is discolored, like there is dye on one side, but overall I am very happy with the value of this item. Wasn't sure what the black things were until I re-read the description online. Who knew there were such things as paw cleaners?!

The mat is a nice touch and is comfy with a non-skid back. The large towel is PLENTY large and would work well for an adult human.

Reviewed by McTyra from Alabama on Tuesday, May 21, 2013

I washed this set according to directions and was able to use it the following week. I washed my car and used the mitts to dry the windows and was pleasantly surprised that one swipe dried the windows. Last weekend at a dog show, it rained all day Sunday and I was able to use the towel to dry my dog after walking. I am pleased with the absorption and the towels are cute with the paw print on them. The only con is that the black small wipes bled slightly onto a towel, this does not annoy me.

Reviewed by Lab mom from West Virginia on Saturday, May 4, 2013

I LOVE these towels! They are thick, absorbant and work like a charm. It makes drying my labby girl after a bath quick and painless. The bath mat keeps my floor dry and gives me something soft to kneel on while bathing her in the tub. I actually purchased a 2nd set and I'm probably going to get a few more. I haven't used the mits for bathing, but they do dry paws well after using hte paw cloths to remove dirt/debris. They would make a terrific gift as well.

Reviewed by cvuke from Iowa on Saturday, May 4, 2013

Works very well

Reviewed by The Cocker Lady from Montana on Thursday, May 2, 2013

This set makes a darling gift...lots of good "stuff" inthe package! So pretty too!

Reviewed by basecamper from Elizabethtown, KY on Monday, April 29, 2013

I ordered two sets.....and they were very nice, but the black microfiber cloths had bled black onto the pink mitts that were packed under them. I had to return both sets.

Reviewed by Two Step Dancer from Ohio on Tuesday, April 23, 2013

We have 2 Coton de Tulears that we keep in full coat. We groom them at home and this set is great. The mat fits our grooming table perfectly. They only weigh about 11 pounds so the microfiber towel wraps a wet dog completely. The pink color suits our two "girls".