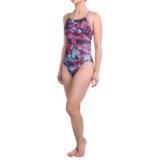 Closeouts. Spice up your laps and team medleys with Dolphin's line of Uglies; fun practice suits that last long and give a little extra drag to help increase your speed through the water.
Questions about this product? Get answers from community and staff experts.
Question
(6 Questions)
Answer
(10 Answers)
"Hi, what size should you order for a child who is about 60 inches tall and 75 lbs? Sizing says girls and women but one review said a size 30 fit her 8 year old? "

A 30 would be too big. I would say a 26 at most. I am 5-8 and 130 lbs and I wear a 32. The nice thing about the Uglies is their suit is long enough that it does not ride up. They are a bit longer in the torso than some suits. It may feel a little tight at first. It will stretch a little in the water.

I 'm not sure about kids' sizing but I'm 5'4-1/2" and weigh a compact 130 lbs. (low body fat) and I wear a 38 in these Dolfin suits. They fit like Speedo suits, other Dolfin suits I've had, and Finals funky suits that I've had. In other words, I think they're true to size. I almost always buy a 38 in suits but if a suit comes in long sizes I would like a 36L better than a 38. I have a long torso so I have to order a size up when I can't find a long version of a suit. I've probably confused you totally but basically, in answer to your question, these uglies are true to size and great lap swim suits. I've had 3 before the two I just ordered and they do last well and are comfortable to swim in.

"What is the leg opening high, moderate or conservative. You always have to specify this.
"

Conservative. Very conservative.

I'd call it a moderate conservative. Absolutely NOT high!

"Is the suit fully lined?
"

"Does this have built-in bra?"

This swimsuit does not have a built-in bra.

"Does it have a built-in bra??"

We apologize for the inconvenience! This product is currently sold out!

"WHAT ARE THE GIRLS SIZES?"

Please refer to the following size chart for further information: http://www.dolfinswimwear.com/Dolfin/sizechart.html

Measure their busts, but order the next size, or if you want to last the whole season, consider 2 sizes larger depending on the girls height. I ordered 26, but wasn't long enough for the girls, but fit around a little to snug. They are petite 9 and 10 year olds.

My youngest daughter wears an 8/10 and we got her the 26, my middle child wears a 12 and we got her a 30, and my oldest wears a 14/16 (girls) and she wears the 32. They all fit perfectly and they now have 3 each thanks to Sierra Trading Post!