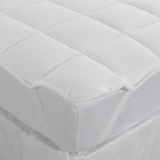 Closeouts. Naturally lofty, soft and moisture-absorbent, the merino wool filling of DownTown's lofty Queen mattress pad protects as it comforts with soft jersey cotton.
Average Rating based on
24
reviews
4.583333
0
5
Verified Buyer

Reviewed by mtt from grn mtn on Sunday, November 22, 2015

This is a consumer end product. Unless you have a flock of sheep, shears, sewing machine, and thread; this is the way to go.
This is an exaggeration, there are some ways to duplicate this item on the cheap, but none that are logical for the average consumer. This makes for a better bed, if its in your budget. I am keeping it in addition to a homemade alternative, its better!

Verified Buyer

Reviewed by ChiTown Gal from Chicago on Friday, November 6, 2015

I'm quite happy with this mattress pad. It is 3/4' - 1" in thickness, but the baffles wool seems to bounce right back.
It has been comfortable in 70 degree weather since it is a natural wicking fiber. It will also be nice and cozy during the winter months.

Verified Buyer

Reviewed by 3dvizwiz from Boulder, CO on Tuesday, November 3, 2015

Wow. How very comfy and snug this makes a mattress... it should be very cozy for this winter. I might subtract 1/2 star for the anchor bands being located a bit near the tips of the pad (as it seems like it almost wants to slip off when being put on the mattress), but once the fitted sheet is on, it's there to stay. I'm very pleased. Thanks, STP!

Reviewed by Buttercup AT from Missouri USA on Monday, April 13, 2015

This has stopped my husband's night sweats. We use it year-round. I thought about buying some more expensive organic cotton/eco-wool pads, but they cost $400-$500. These pads hold up well. We used the first one for 2 years until our baby peed on it and I tried to wash it in cold in the washer. I know it says Dry Clean Only, but oh well. Our old Queen almost fits a full size bed and will eventually go on a kid's twin bed (when older). The new one we just bought looks to be the same quality as the first.

Verified Buyer

Reviewed by Diane from Michigan on Sunday, March 1, 2015

I've only had it on the bed a week but it is very cushiony and comfy. Best price I found with a coupon I got through ShopStyle.

Verified Buyer

Reviewed by comfortseeker from Tennessee on Saturday, February 21, 2015

Because of previous reviews, I was expecting a strong odor when I opened the package. Although there was a noticeable scent, after airing outside for a day, we were fine with putting it on our bed. To my nose, it mostly smells like wool. this mattress pad offers a layer of warmth and comfort which we are appreciating very much , especially since my idea of enough covers on the bed is different from my husband's. This pad helps add warmth without additional weight. Highly recommend if you like to sleep in comfort and tolerate wool.


Verified Buyer

Reviewed by Moray from New York on Friday, December 19, 2014

Ok, so first off, this is not nearly as thick as the Q&A says. It is only about 3/4 inch at most. If you have a mattress that needs just a little padding for luxury then I would say get it. It didn't provide enough padding for us, but it was very WARM. In fact, we were going to buy an expensive wool blanket, but ended up not needing it with this on the mattress. It's really great for the cold, and we'll see how it does in the summer. Hopefully it regulates temperature in the summer. It is nice quality and I didn't notice a sheep-smell at all.

Verified Buyer

Reviewed by LuAnn from Ohio on Tuesday, November 25, 2014

I have slept on featherbeds for 10+ years, but decided to try this product since it got such great reviews. I have to say that I love it. I sleep great and the wool is more evenly distributed in the baffles than the feathers. The elastic anchors are useless as everyone states, but the sheet holds down the pad fine. This is a wonderful product that I highly recommend.

Reviewed by Nutmegger from NJ on Thursday, November 20, 2014

Beautifully made pad, I was looking forward to sleeping on it! But when I opened it up I was struck by the funky barnyard smell. Thought it needed a few days to air out so I left it open in my guest room. When I came back to collect it, I started sneezing like crazy! It got worse after I put my nose up to the thing and inhaled deeply. I have never been allergic to wool before but this pad has a very barn-like aroma and the wool does not smell clean. I am wondering orbit is even Sheeps wool because only horse hair makes me react the way I did.

Verified Buyer

Reviewed by kgc from MI on Thursday, April 24, 2014

I've read that a wool mattress pad makes one sleep like a baby. It's true! The first night my husband and I were stunned by how solidly we both slept. YAY!
The wool does mat down after a few weeks but the natural effects of the wool are still evident. Like others have said, the elastic bands are useless. I put this on top of my other mattress pad and it does not move- no straps needed. Have since purchased two additional as gifts for our elderly parents. Can't wait to give them on Mother's Day. As usual, great STP price!