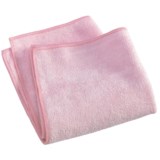 Closeouts. Use dry for dusting or just add water to e-Cloth®'s general purpose cloth to clean countertops, glass, stainless steel, chrome, granite and wood -- without the use of household chemicals.
Average Rating based on
11
reviews
4.818181
0
5
Reviewed by Quality Bargain Shopper from Wine Country, Northern California on Tuesday, March 19, 2013

Used the cloth on my granddaughter's grubby I-pad with just water and the I-pad now looks new. Much thicker than most microfiber clothes. I highly recommend.

Reviewed by FSYMP from Chicago on Thursday, March 14, 2013

It claims that with it you can clean without chemicals. Would not go that far. Certainly picks up dust very effectively.

Reviewed by ND from CA on Tuesday, March 5, 2013

I was skeptical, but bought this because I needed a small kitchen towel anyway and the price was right and I am impressed - it really does clean counters nicely, even without soap.

Reviewed by Moonhaw Maid from NYC & Ulster Co, NY on Sunday, March 3, 2013

I keep this one in the car...

Verified Buyer

Reviewed by A & S from Cincinnati, OH on Wednesday, February 20, 2013

For twenty years I've been using wood cleaner on my pine paneling and it has just gotten darker and darker, but a single vigorous rubbing with damp microfiber has restored the golden glow. The cleaner must have left a residue that oxidized. . . . ditto for my windows, which seem much cleaner than they do after using spray cleaner.

Verified Buyer

Reviewed by Hiker biker girl from Colorado on Monday, February 18, 2013

I have hated cleaning my stainless appliances until I got this cloth. Used with a little Basic H (makes water wetter), it works miracles on my fridge and front of dishwasher, which is always streaked with drips. I ordered 2 more for a total of 4.

Reviewed by Pumpkinbird from Wheaton, IL on Wednesday, February 13, 2013

This is amazing. I was looking for something to clean around the kitchen. I was not expecting this towel to be this wonderful. It is almost addicting to clean. We have microwave above the gas stove, so it get gunky sticky thing on the microwave all the time. That sticky thing is all gone with no soap. It was easier than cleaning with degreaser. The towel itself washed really well too. The heavy greased spot on the towel, I used dish soap to prewashed it. This is my new friend.

Verified Buyer

Reviewed by hikerbiker girl from Colorado on Tuesday, February 12, 2013

cleaned tub and sink scum without cleanser
worked miracles on stainless dishwasher when nothing else worked

Verified Buyer

Reviewed by ilovemountains from North Idaho on Monday, February 4, 2013

I was pretty skeptical of this product, but after the first use, I absolutely love it! It cleans better than every other product out there and WITHOUT chemicals. Just try it out on one of those chores that you hate doing (cleaning out the fridge, scrubbing the bathtub, etc) and you will love e-clothes too.

Reviewed by FB from Brisbane, Australia on Tuesday, January 8, 2013

This is the best all-purpose kitchen cleaning cloth I have ever used! It cleans surfaces so effectively without chemicals or much elbow grease, and is so much more hygienic than other cloths. Cost effective as I'm not throwing it away and getting new ones all the time - just rotate them every few days and wash them in a normal machine cycle. Can't believe how my kitchen sparkles now with absolutely no effort. Amazing!