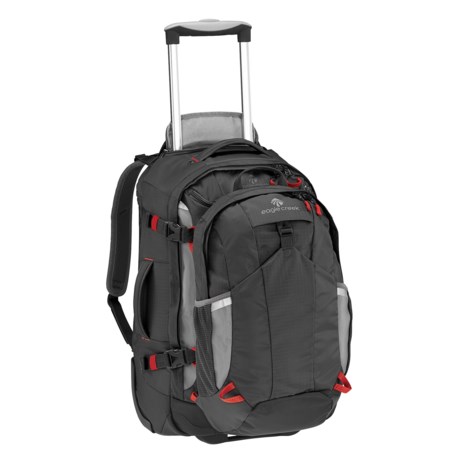 Exceptional Luggage
Verified Buyer
Reviewed by Holly from Minnesota on Sunday, February 28, 2016
I purchased this piece of luggage for a month-long trip to Scotland. I figured I needed one good-sized bag to hold all my clothes and one carry on with all my electronics, entertainment, change of clothes, jacket, and anything else I didn't want stolen out of my checked luggage. Then I could also use the backpack as a day pack for hiking excursions and overnight jaunts (like a side trip to the Isle of Skye). I debated heavily between many options, (the Switchback being a close second) and finally chose the 22" Doubleback for two very important reasons: it fit my body well and I got it in Cactus Green. Ok, I got it just because it came in green. If the Switchback came in any color other than black, I would have chosen that one because it was slightly larger inside the main bag, and the backpack had lots of pockets.
The 22" size I found packed just like the Pack-it card indicated. I was able to stuff into the main bag: 5 long sleeve t-shirts, three short sleeve t-shirts, 2 pair of pants and a button down shirt, all my unmentionables (7 of each -- I cheated on socks by stuffing a pair or two in each pair of shoes I packed), two pair of shoes, pajamas, and a handful of bits like a compass, and a plug-in adapter.
In the backpack I was able to pack one complete change of clothes, toiletries bag including the 311 bag, Kindle, cell phone, gps, cords for them all, water bottle, neck pillow, puzzle book, journal, pens, and travel documents. I was able to roll a fleece jacket and snap it in the pocket on the front.
I found that with both bags packed thus and hooked together, I was able to put the bag on my back and stand up and walk around (I am a 5'4" 130 lb woman). I don't think I could walk more than two blocks with it, but it was comfortable and secure. A jaunt up two flights of stairs would probably kill me, however. Thankfully, there are back-up rollers which work remarkably well, even up stairs. I also found the straps, snaps, and connectors easy to snap together and pull apart. No pinching, pain, or broken nails.
Overall, I love this bag! The Cactus Green is ridiculously easy to spot at the baggage check.
Most helpful positive reviews
Most helpful negative reviews
Similar items and more information in the following areas: