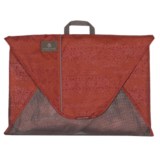 Closeouts. Minimize wrinkles in your valuable garments when you pack them in Eagle Creek's Pack-It® 20 travel folder. It slips easily into your carry-on and includes a folding instruction board.
Average Rating based on
26
reviews
4.923076
0
5
Verified Buyer

Reviewed by Traveling Nurse from Indiana on Friday, January 2, 2015

This is the second Pack-it 20 travel I purchased. The first one lasted 10 years...and went around the world. It keeps your clothes wrinkle free and organized, fits best in Eagle Creek luggage, but will fit in most large suitcases. I even stuffed it in to a ex-large hiking backpack and it worked great. Easy to use and reduces packing time. Enjoy !!

Verified Buyer

Reviewed by pallawalla from Oklahoma on Monday, December 15, 2014

This is truly a space saver. Being someone who has a hard time deciding what to pack & what's not necessary...I can pack most of what I want to take, & it'll be in good shape when I get it unfolded. Just follow the directions on how to fold. You also don't have to bother hanging everything if you have a bunch of one-nighters -- It sure cuts down on the number of suitcases that have to be taken.

Reviewed by No wrinkles from Alabama on Wednesday, December 10, 2014

I bought this for my husband's carry on luggage. He travels every week with his job. This size fits his clothes, keeps things looking nice. Makes it easy for him to get in and out of his suitcase for other items without wrinkling his shirts. Highly recommend this product.

Verified Buyer

Reviewed by world traveler from Cape Cod MA on Sunday, November 23, 2014

I have a hotel and see lots of guests with LOTS of wrinkled stuff. I had a guest recently and every single shirt he had was pressed perfectly. I asked him if he had brought an iron. No No No. He had one of these pack it systems. WOW I just had to get one. I now own 3 myself, have bought them for gifts for friends. Everyone loves them
One bit of advise, the shirt has to be pretty wrinkle free BEFORE you use it. But if they are, and you pack the shirt in this, when you get WHERE EVER YOUR GOING, around the world or to another state, your stuff will look like you just ironed it

Verified Buyer

Reviewed by Nini from Nyc on Tuesday, November 18, 2014

Will still recommend for organization

Verified Buyer

Reviewed by JunseiMotors from Arizona on Thursday, November 13, 2014

Im a pretty big guy and I needed a folder that was big enough for my clothes and still fit inside a 45L carry on bag. This is just perfect. I can fit multiple long sleeve shirts & jeans and it fits perfect in the carry on bag I purchased. Ive done months of research before my trip to England and only 1 item out of the 15+ travel items ive purchased all over the internet is not eagle creek. The rest is and this was one of them. Perfect for big clothes or if you plan on having a long vacation where u need alot of space. Im a big guy and my vacation n is 2 weeks long so this is just right.

Verified Buyer

Reviewed by Sassy Traveler from Ohio on Wednesday, October 1, 2014

I bought three sizes of these, but haven't used them yet. They were such a great price here that I thought I'd better get them all while I could. I have several different sizes of suitcases, so I wasn't sure that one size would be the right choice.

The product looks like it will really make a big difference in packing clothes neatly, and able to get more in the suitcase. Quality construction and better design than one of their competitors.

Verified Buyer

Reviewed by watergirl from Washington on Tuesday, August 26, 2014

Helps bring order to suitcase. Adds a bit of structure to a duffel bag as well.

Verified Buyer

Reviewed by summer traveler from florida on Sunday, July 27, 2014

this was a first time use on this travel folder it was great my clothes did not need any ironing and actually i kept the clothes
in the folder and took out the items i needed daily. i repacked the clothes for my flight home and took the folder to the laundry room
and emptied everything to wash , great organization.





Verified Buyer

Reviewed by Max of the desert from AZ on Thursday, July 24, 2014

The product was sent to us very fast, which is great as we are going on vacation. I have a set of these already.

Only problem was that the velcro on one of the flaps was not sewn on proper, can work around temporarily. But it will need to be repaired.

This is a very good and efficient way to pack.