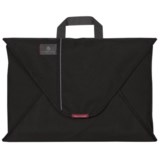 Closeouts. Save space in your luggage by using the Eagle Creek Pack-It® 15 folder to compress up to seven shirts, blouses or pants.
Average Rating based on
17
reviews
4.764705
0
5
Verified Buyer

Reviewed by Sutton from colorado on Thursday, December 18, 2014

Hard to go wrong with these. Keeps shirts neat and looking pressed for travel!

Verified Buyer

Reviewed by JunseiMotors from Arizona on Sunday, December 14, 2014

I already had purchased an eagle creek pack it folder 20 for myself & an 18 for my gf. I needed another one as a nephew would accompany us on our trip now so I ordered the pack it folder 15 for him. Its just the right size. He is very slender so this is only good for children or very petite people. If you are looking to pack many items such as shirts, jeans, etc, or are a bigger person, this folder would not work for you. I recommend the 20 for anyone who is over 6 ft tall or broad shoulders. Other then that, these folders are great. Fit in more carry on luggage. Ours carry on has an outer zipper the size of the whole bag and these fit perfectly in there.

Verified Buyer

Reviewed by William from NY on Saturday, December 13, 2014

I can fit all my clothes for 4 days in 2 of these + a few of Eagle Creek's pack-it tubes in a small carry-on duffel bag (no bulky luggage needed).

Verified Buyer

Reviewed by BronxBilly from Bronx, NY on Saturday, October 18, 2014

I've had these for years. They are terrific. The construction and materials used have evolved over the years but basically they are the same as they were 15 years ago. That makes buying them here, at half price, even better. I have all my dress shirts laundered so they are already folded. I just pop them in the case and put them on the bottom of my bag and they stay neatly folded. I say buy extra because originally I had 4 or 5 of these cases. As my sons grew older they began to "borrow" them. Of course now they live on their own, one in Iowa, and the borrowed cases are now "their" cases 'cause I'm retired and no longer wearing dress shirts or traveling. But I do travel and occasionally need to bring along a dress shirt and tie (you can put a few ties in these too). That's why you should buy extra. Oh, yeah, my wife uses the next size up for sweaters and tops.

Verified Buyer

Reviewed by JT from Seattle, WA on Saturday, October 11, 2014

I commute to work by bike 3 days a week and the Eagle Creek Pack-It 15 is the perfect size to nicely pack away a change of clothes for the day. Fits perfecting in my Ortlieb panniers and the clothes end up wrinkle free.

Verified Buyer

Reviewed by Bill_el_gato from East Coast at present on Wednesday, October 1, 2014

Perfect for an outfit - pants shirt undies, sweater/pullover. Particularly when traveling by motorcycle, I use one of these pack a nice set of clothes to put on at my destination. I use more of these for longer trips.

If they only made something to hold my surfboard on the bike...

Verified Buyer

Reviewed by Organized Carry-on Traveler from California on Tuesday, September 30, 2014

I am a carry-on traveller and need a high degree of organization. This packing folder fits in the door of my carry-on and holds seven items (I am a 5' 5" female so my clothes are real long). I can easily fit 1 dress and six tops. When I arrive they are organized and wrinkle free. I purchased an 18" folder for my husband who wears tall sizes and he can fit 10 shirts in it. I love these so much I purchased two more. The price is greatly reduced when you purchase from this site. A great value.

Verified Buyer

Reviewed by LindaMia from Los Angeles, CA on Wednesday, August 27, 2014

This folder keeps my blouses and slacks very tidy. And, lay flat profile fits great with small carry-on luggage! I wish I had bought this years ago!

Verified Buyer

Reviewed by Biking guy from SLC on Tuesday, August 12, 2014

Really works for shirts & pants.

Verified Buyer

Reviewed by East Bay Gal from Concord, CA on Sunday, August 10, 2014

....and it packs well in my suitcase. I also bought the 20" for my slacks. Everything packs down and the plastic folder is a great help.