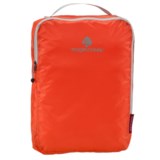 Closeouts. Pack more in less space with Eagle Creek's Pack-It® Specter half cube. Simply roll your clothes and place them in the cube for a more organized and user-friendly packing experience.
Average Rating based on
20
reviews
4.750000
0
5
Verified Buyer

Reviewed by Camping Friend from Layton, Utah on Saturday, May 14, 2016

I have purchased several Eagle Creek Pack-It cubes and other Eagle Creek products and they are well made. I like things organized and don't like spending a lot of time looking for something.

Verified Buyer

Reviewed by Camping Friend from Layton, Utah on Saturday, April 30, 2016

I have purchased Eagle Creek Pack-it cubes in the past and have been happy with the durability of their products. I like the idea that I can quickly find something in my rolling tote or small rolling suitcase. I have compared prices and STP beats them all. However, their product sell fast and if you wait to long they will be sold out.

Verified Buyer

Reviewed by Cindi from Pa on Sunday, April 17, 2016

I have many of these packing cubes. The construction seems less smart than most of the others I have. Zipper offset, corner pleats unevenly seen, bad craftsmanship or I got a reject! Anyway, it's still useful, just not my favorite.

Verified Buyer

Reviewed by War Eagle from Alabama on Wednesday, March 9, 2016

It works well to keep smaller stuff organized in your luggage. Eagle Creek has some nice products.

Verified Buyer

Reviewed by Anonymous from Texas on Tuesday, February 9, 2016

Great reviews on full cube. Looking forward to using mainly for trips to check on elderly parents at moments notice out of town. Hopefully, being better organized and ready will lessen my stress level. Like the color. Good price. Purchased two.

Verified Buyer

Reviewed by Great Northwest from Shelton Wa. on Monday, February 1, 2016

Ordered for travel will work out well and well made.

Verified Buyer

Reviewed by Gualalamama from Gualala, CA on Saturday, August 29, 2015

Love all things Eagle Creek. Well made. Useful. Colorful. Handy. Convenient. I have all sizes and love them all. Weighs NOTHING!

Verified Buyer

Reviewed by Little5rider from New York, NY on Monday, August 10, 2015

I had never heard of packing cubes, but in buying a new bag, found that they seemed to be the "next big thing". I wondered what their allure and advantage were over Space Bags, so thought I'd give one a whirl for less than $4 on sale at STP. The bag is super light, so for a trip where I was trying to save weight - that would be a plus. I used mine this time for tolietries. I liked that I could pull the cube out of my bag and have the liquids in one quart bag and other stuff in another plastic bag inside. The carrying handle is a great feature of the cube. Without it, it would not be so great because the cube is just fabric with no structure, so the handle is a big plus when carrying it around with items inside. Im not sure how useful a cube would be for clothes, as it does not compress like a Space Bag, but is lighter weight. This half cube would fit some underwear and two-three small shirts, but not a lot. Overall, I still have to be won over by the concept of cubes for packing, but this one performed well as a tolietry bag of zero weight.

Verified Buyer

Reviewed by Mary the hiker from Utah on Wednesday, July 29, 2015

Really like these cubes--extremely lightweight nylon--and the perfect size for the assorted cables and charging devices, etc., that one needs for travel. As usual, Eagle Creek quality.

Verified Buyer

Reviewed by Virginia Bob from Virginia on Wednesday, July 22, 2015

The whole family of Eagle Creek pack-its make organizing for a trip a snap.I own a bunch of these products.Not only are you organized when you reach your destination(s) but I find the EC pack-its make me organized when I'm packing before the travel. Highly recommended. They also make great gifts.