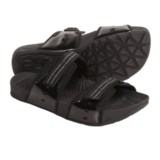 Closeouts. From Earth's unique line of Exer-Fit footwear, Exer-Slide sandals feature Kelso® Negative Heel Technology®, allowing you to burn up to 4x the calories with every step.
Patent leather upper with touch-fasten nylon straps
BioFoam®-cushioned footbed
Kaelso® Negative Heel Technology® helps improve circulation, tone muscles and burn calories
Rubber outsole
Weight: 14.8 oz. pr.
Medium width
Made in China

Half sizes order up.
Average Rating based on
96
reviews
4.135416
0
5
Verified Buyer

Reviewed by mom on the go from FD, IA on Tuesday, July 26, 2011

Not available in 1/2 sizes but that would be best. Looking for a sandal that would replace tennis shoes on vacation that are still stylish looking.

Cons: Toe grip uncomfortable
Pros: Adjustable width, Cute
Sizing: Feels half size too big
Width: Feels true to width

Verified Buyer

Reviewed by Andrea in Alabama from Birmingham, Alabama on Monday, July 25, 2011

Upon arrival the shoe insole bed had nubs from the manufacturing process, this was very agitating to my feet. So I got my cuticle clippers and nipped about 10-12 nibs out of each insole. If I didn't remove the nibs I would have had to send them back. I decided to cut the nibs so I would not have to deal with returns :( which is always a hassle!

Best Uses: House Shoes
Cons: Poor Quality
Describe Yourself: Casual
Pros: Breathable, Comfortable, Durable
Sizing: Feels true to size
Width: Feels true to width

Verified Buyer

Reviewed by Comfy Texas Lady from Texas on Friday, July 22, 2011

I wear these exer-slides everyday. This is my second pair in 3 yrs. The shoes last well even with out in the garden wear. The shoes are easy to clean too. I 'd like a mule shoe in the exer-slide for winter . I cannot wear a shoe with a conventional heel (raised even 1/2 inch) . So Earth Kalso shoes are great for me. These shoes help with my back pain too.

Best Uses: Barbecues, Everyday, Walking, Wear them everyday
Describe Yourself: Casual, Conservative, Stylish
Pros: Breathable, Comfortable, Cute, Durable, Stylish
Sizing: Feels true to size
Width: Feels true to width

Verified Buyer

Reviewed by dmj1961 from CT on Wednesday, July 20, 2011

Love these sandals!!! I have suede Earth sandals that I can't wear in the rain, etc. These have a rubber-like sole and patent leather w/velcro for straps. Bought one pair for myself and one for my daughter.

Best Uses: Barbecues, Beach, Everyday, Going Out, Outdoors, Travel, Walking
Describe Yourself: Casual, Stylish
Pros: Comfortable, Cute, Durable
Sizing: Feels true to size
Width: Feels true to width

Verified Buyer

Reviewed by Devidoc from Southern California on Wednesday, July 20, 2011

i bought these to wear around the house but the footbed has the branding and what not etched into it. i can feel it on the bottom of my feet and it is not comfortable to me. It might not bother someone else.

Cons: Chafes
Describe Yourself: Casual
Sizing: Feels true to size
Width: Feels true to width

Verified Buyer

Reviewed by BJ from Fort Wayne, IN on Saturday, July 16, 2011

I use the sandals for work and runing about town.
I have plantar fasceitis and this is the right one for my feet. The adjustable straps help when my feet swell.

Best Uses: Everyday, Going Out, Walking
Describe Yourself: Casual
Pros: Breathable, Comfortable, Cute, Durable, Stylish
Sizing: Feels true to size
Width: Feels true to width

Verified Buyer

Reviewed by BJ from Fort Wayne, IN on Tuesday, July 12, 2011

I use these sandles for work and play. I have plantar faciatis and the shoe prects my heel. This is the only type of shoe I am wearing and am glad Earth is enhancing their styles.

Best Uses: Barbecues, Everyday, Going Out, Outdoors, Travel, Walking
Describe Yourself: Alternative, Casual, Conservative, Stylish, Trendy
Pros: Breathable, Comfortable, Cute, Durable, Stylish
Sizing: Feels half size too small
Width: Feels true to width

Reviewed by Maura from New Haven, CT on Monday, July 11, 2011

Oddly, I love these shoes despite the fact that (as others have mentioned) the sole of the footbed is covered with a proliferation of tiny, raised sharp dots that most people will want to remove. The only way to isolate exactly where these "dots" are, is to run one's hand over the inside sole and then get to work with a manicure scissor. They were so comfortable, that when I took them out of the box on Friday night to try them on, I didn't take them off. I ended up wearing them all weekend without any discomfort so it's weird that I discovered, on Monday morning, that one of the straps on (only) one of my feet had left black & blue marks just above two of my toes. It looks like they were caused by seamlines of the strap. But it never caused me any pain and I think it's just because I never took them off. I do find them extremely comfortable: like flip-flops with arch support. And adjustable, too. They are a little weird looking in that the sole extends about 1.5 inches past my toes, but they are so comfy I don't mind. I would absolutely buy these again!

Best Uses: Beach, Everyday
Describe Yourself: Casual
Pros: Comfortable, Durable
Sizing: Feels true to size
Width: Feels true to width

Verified Buyer

Reviewed by Silver Fox from Danville, IN on Monday, July 4, 2011

Stiffer than all leather earth sandals I've purchased, but break-in period lessens the chafing on top of foot from strap. Less breathable, due to partial plastic materials in sandals. But after getting used to the difference, I do find they're better sandals to wear on wet ground. All leather sandals get uncomfortably wet, causing blisters. These repel moisture and that's good. Overall, nice sandals.

Best Uses: Barbecues, Everyday, Outdoors, Travel, Walking
Cons: Needs Break-in
Describe Yourself: Casual, Conservative
Pros: Comfortable, Cute, Durable
Sizing: Feels true to size
Width: Feels true to width

Verified Buyer

Reviewed by Earth fan from Michigan on Friday, July 1, 2011

I'm a fan of Earth shoes because the inclined sole takes pressure off my bunions. I bought this pair of slides to wear as house shoes when washing dishes, cooking, etc., and they are quite comfortable. Specific comments:
-- I have a size 8E foot. The footbed is plenty wide for me, but I had to add a patch of velcro to make the upper strap work. (strap was long enough; velcro was not)
-- These sandals are just barely long enough for my foot; I have a pair of Earth exer-flips in the exact same size which are about 1/4 inch longer than these slides when measured back to back.
-- I agree with the other reviewer who found the little dots of material on the sole to chafe; but they are easy to cut off. There are about 10 or so on each footbed. Perhaps a byproduct of manufacturing.
-- There is a little chafing on the inside/upper strap because of the stitching used to attach the clip. It's not bad; I got used to it quickly.
-- Just like the exer-flips I have, these slides have a lingering leather/chemically smell that is fading quite slowly.

Best Uses: Everyday, Walking
Cons: Chafes
Describe Yourself: Casual
Pros: Comfortable
Sizing: Feels true to size
Width: Feels true to width