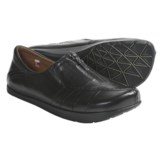 Closeouts. The sleek, no-frills style of Kalso Earth's Renee shoes is accented with an instep zip and a touch of pleating, and Kalso Earth's revolutionary Kalso® Negative Heel Technology® brings the comfort up a notch.
Average Rating based on
53
reviews
4.415094
0
5
Verified Buyer

Reviewed by whiteowl from Ohio on Sunday, November 1, 2015

These are very comfy shoes. They have a good support, and look very nice. I will be wearing them a lot now that sandal weather is over, and not boots yet. Recommend them highly.

Verified Buyer

Reviewed by Jan B from Maryland on Monday, August 31, 2015

Decided to go back to Earth shoes to keep my tendon stretched. These are very comfortable. Fit is good I wear them at work and home.

Verified Buyer

Reviewed by Happy Customer from Florida on Friday, July 31, 2015

Very comfortable fit, and true to size. My only problem with these shoes is the stitching across the outer edge. The stitching (pleating) hits the bone below my small toe and doesn't allow for any give in the shoe. I worked in them and felt great otherwise. No back pain and no tired aching soles after being on my feet the entire day.

Verified Buyer

Reviewed by Diane, the Retired from Florida on Tuesday, June 16, 2015

The shoes are great quality. I've been wearing them around the house since my feet are very sensitive to high arch supports. Even though it is very padded and extremely comfortable it may hurt my feet the next day due to p/f. I will continue to wear them to see if they are keepers. I love Sierra's return policy so I can really test the shoes around the house before deciding!!! I ordered my usual size and they are spot on in length and width.

Verified Buyer

Reviewed by Jhudy from Oregon on Thursday, October 30, 2014

I was very pleased with the whole experience. I found the shoes I was looking for. The price was excellent, the order process easy and I received the shoes in a short length of time. I love the shoes. They are comfortable and very attractive.

Verified Buyer

Reviewed by the nanny Nana from Massachusetts on Thursday, August 28, 2014

I received my order of size 7. The shape of this shoe appears not quite right to me. An odd statement, I know. It is too big in length and width. I'm concerned recently about ordering Kalso on line. The quality in fit isn't as dependable as it used to be. I reordered this model 1/2 size down. Got my fingers crossed. Earth shoes have been my only shoe for at least twenty years. I really count on them.

My rating is based solely on appearance for this order. I will be able to report back more completely when my exchange arrives.

Verified Buyer

Reviewed by happy feet from ohio on Sunday, August 24, 2014

i have pf and usually wear sanita. I have a pair of earth boots and can walk a long time in them. The lower heel stretches your leg which helps the pf. In anycase, I really liked these shoes. My job entails me walking around for hours on and so my feet swell ALOT. I liked the zipper on top, so that when they did start swelling I could just unzip it some to relieve the pressure. I did return them, because they were a little too narrow. My feet are between a b and c. I prefer the widest I can get (swelling). I did almost keep them, but my closest is full of black shoes I thought would stretch or thought would relieve the pf (like klogs..don't work for me...not a fan of dansko either) Very nice shoes though...really sad I had to return them.

Reviewed by Nurse Connie from Kentucky on Saturday, August 2, 2014

I am a nurse and I purchased these shoes for work. The Kalso Earth Renee Shoes are some of the most comfortable shoes I have ever worn to work. have tried many brands of shoes to keep my feet and legs from hurting. IMy feet and legs do not hurt when I wear these shoes.


Reviewed by yellow from new york on Wednesday, February 26, 2014

I always like to write about the fit first since that is what I look for in a review. They are quite wide. If you have narrow feet, these shoes wouldn't work. They run somewhat large and that is probably because of the width. Since I have wide feet, they work well. The leather is a little stiff but thick and high quality. They are very comfortable. They do not slope down as much as other Earth shoes. However, your weight will shift towards your the back. They look somewhat like clogs. If you like the chunky look, as I do, and you have wide feet, you will love these shoes.

Reviewed by frankie from The Black Hills on Sunday, February 16, 2014

Both my daughter and I love them. I have arthritis in my feet and she has MS. These shoes work so well for both of us. I am getting another pair.