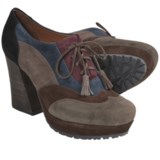 Closeouts. Part dressy oxford, part funky retro-vibing style, Earthies' Skellig shoes take unique to a new level of eye-catching wonder. Their multicolored pieced suede upper is accented by a lace-up design and a dramatic platform with a chunky, look-at-me heel.
Average Rating based on
24
reviews
4.583333
0
5
Reviewed by Shellykohler from Houston on Thursday, January 30, 2014

I fell in love with these shoes and HAD to have them. I never liked heels before Earthies and now I LOVE them. These are comfortable when it comes to the heel issue.

The toe issue on the other hand is why this gets a 4 star. It gave my pinky a blister. I used moleskin and changed shoes for a few days.

Reviewed by Kat from Chicago on Wednesday, January 29, 2014

I got these at such a great price it was worth taking them to the cobbler to have the portion around my pinkie toes stretched. The next half size isn't available and they otherwise fit perfectly in the ankle, arch, and instep. I've gotten compliments on the first day of wearing them and they're very comfortable for my feet with past issues of plantar faciitis. I have another, dressier pair of Earthies that I'm also very happy with (and fit perfectly out of the box). I see me and these shoes being cute together for a long time!

Reviewed by Sassy Shoes from Indiana on Wednesday, December 11, 2013

I did have to return and re-order a half size bigger due to the toe-box, but it was well worth it. Lots of compliments! Fun shoes!

Reviewed by Nickname Goes Here from California on Wednesday, December 4, 2013

Ok this shoe is a contradiction. It is well made & comfortable BUT it's borderline funny looking- it reminds me of a clown's shoe with the different color suede. I really wanted to like this shoe. The body style is attractive but overall, in my opinion, it's obnoxious looking. Sent them back.

Reviewed by Dafne from minnesota on Thursday, November 7, 2013

Very comfortable and stylish.

Reviewed by Kimber from Dallas on Wednesday, November 6, 2013

I could not WAIT for these to arrive.

I agree with the song "men don't change and shoes don't stretch" or something like that, but I am SO hoping that the forefoot of these WILL stretch a bit. I have another pair of Earthies and they were a bit loose in my normal size, but very comfortable. This pair, well the length of the shoe in my normal size is BARELY workable, but I feel like a longer pair will cause my heel to slip while walking, and we can't have that. So I am hoping that the suede will stretch out.

Because I LOVE the look of the shoe. And if it loosens up it will be really comfortable. As with other platform heel shoes, the "net" heel isn't that tall (once you take into account the platform), or in other words, the angle of your foot is in a really comfortable position. The shoe has taupe, burgundy, brown, a dusty dark blue, and actually BLACK on it as well, so it goes with EVERYTHING. I am planning to wear them to work on Friday with skinny jeans, and I KNOW I will get compliments. Can't wait. Hope they don't kill my feet!!!

In summary the forefoot is a bit narrow for my foot, but I am going to try to overcome!!

Reviewed by sscordat from Chicagoland on Monday, September 30, 2013

More of a winter shoe (it's September now). First impression is very cute shoe. Second impression is a little snug for Earthies (buying my normal size 9). Thinking they may loosen up a bit since they are leather.

Reviewed by JAM from On tour on Wednesday, September 4, 2013

Great shoe. Well made. I bought 2 pair at a great price.
Very stylish and well made.
Will buy more from the Earthies brand.

Reviewed by MaineGirl55 from TN on Monday, September 2, 2013

Although I rarely wear heels, this shoe is very comfortable. Because of it's multi-color, it is also very versatile.

Reviewed by Karen from new york on Tuesday, August 13, 2013

My second pair of Earthies and not disappointed. Unique and comfortable you don't realize how high the heel is. Light and quiet too.