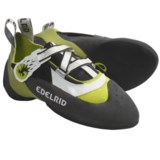 Closeouts. With an asymmetrical, downturned slip last, Edelrid's Raven climbing shoes excel on steep rock and overhanging features. The Slide-Rail fastening system provides excellent adjustability.
Average Rating based on
13
reviews
4.461538
0
5
Reviewed by yositune from Alexandria, VA on Friday, May 2, 2014

I've bought 4 pairs?? at this point and my son loves them too. I think other reviewers have commented that both the look, heal band and strap look like the sportiva solutions. I think I might still prefer solutions if price was not an option.. but I've never seen the solutions on STP. Still an amazingly comfortable shoe for as aggressive as it is. Others have commented on the heel being maybe not as well fitting as the solution but for my foot they fit great.

The hurricanes are also a nice flatter shoe and had several pairs of those as well. Love Edelrid product despite it not being as well known inthe US!

http://www.sierratradingpost.com/edelrid-hurricane-climbing-shoes-for-men-and-women~p~5125a/?colorFamily=01

Reviewed by Graceful Hiker from Ohio on Tuesday, March 25, 2014

I love these shoes! Very well made and has gone through many climbing trips by now. The sizing is tricky though. I wear a 9.5 US Mens, but needed to buy a 11.5 shoe. Be aware of that when you buy it!

Reviewed by blafrisch from Raleigh, NC on Friday, March 21, 2014

After my recent purchase of these shoes I tried them out in the gym and at Red Rocks. These shoes rock, it's a shame that you cannot really find them anywhere else. The handled everything well that I tried: heel hooks, toeing in, edging, even a little bit of slab. Well, they aren't so great on slab but I didn't expect that they would be.

Sizing wise I wear a 10.5US street shoe and ended up getting a 10 in these shoes. I know I could have gone a little smaller and still not been oppressively tight but I wanted to be able to wear them for longer than a single climb. They hug my foot so closely that the hardest part of many climbs is popping my shoes off.

After my current two pairs wear out then I'd likely look for these again but I'm doubting I could find them. For now I'll enjoy them as well as the comments that they bring, "Edelrid makes shoes?"

Reviewed by Tim from Kentucky on Thursday, February 6, 2014

Very pleased with this pair of climbing shoes, thinking about buying another pair before they are gone.

Reviewed by Handstand from Wisconsin on Monday, January 27, 2014

They are aggressive and the rubber is sticky enough. The sizing is a bit weird. I wear 41.5 for la sportiva and 43 for Edelrid.

The one major complaint I have is that the strap from one of the shoes broke. There are metal fasteners that are designed to slide up and down a tufa-thing on the shoe. One of these metal fasteners slipped off the toe end of the tufa-thing and could not be securely reattached. I still use the shoes as slippers and they function fine except for really strong heel hooking.



Reviewed by Eric from California on Monday, January 20, 2014

Although they appear extremely aggressive like La Sportiva Solutions or Evolv Shamans, they're far from the performance. The Ravens are very downturned which I love, but the toe is mediocre for edging or what you may hope for in a shoe as aggressive as these. I would certainly say they're best for 5.11-5.12, V4-V6 indoor climbing. For routes easier than 5.11 and V4ish, the pain you go through isn't worth the outcome.

I've used them several times outdoor bouldering in Joshua Tree, Bishop, Yosemite, and Tahoe and they're OKAY on the small granite footholds. Terrible for smearing or friction routes. Like all aggressive bouldering-esque shoes, they're terrible for crack climbing due to cramed toe pain. Their heel hooks are pretty solid for my feet. If you get them and you can fight and fit your feet in them, they'll fit and stretch out eventually.

In conclusion, if you're looking for a cheap mid performance shoe, they're great. If you're doing much else... meh

Reviewed by ramzi from Oregon on Monday, November 25, 2013

it feels like the entire shoe is rubber. no synthetic or leather upper like other shes. i'm not an expert, but i think these are crack climbing specific so you can wedge your food in cracks better. not was i was looking for, so i returned them. also heavy, but felt super sturdy if you were going to do some nar off width crack climbing in

Reviewed by Maty from Ontario on Friday, October 4, 2013

These are VERY similar to La Sportiva's Solutions. I own a pair of both and they each feel very similar. There are some differences on the heel and toe, but they aren't super noticeable.

Heel: The heel on the Solutions is more of a "ball" on the outside of the shoe, whereas the Ravens have and extended sole that runs up the back of the heel.

Toe: The Solutions include extra rubber on the top of the shoe, the Ravens do not (or at least, have much less) See photos. I can't see this being an issue unless you plan to be heel hooking all day. Do you wear out the tops of your climbing shoes? If yes, maybe consider the Solutions.

Fit: The Ravens fit very similar to the Solutions in terms of feel. For sizing, I am a 9.0-9.5 US street shoe. I wear 8.0 US / 40.5 EUR in SOLUTIONS. I wear 9.5 US / 42.5 EUR in RAVENS. I had to do one exchange to get size right for the Ravens so I hope this helps someone! Both shoes have a suction-cup-like heel, which feels awesome. Similarly aggressive, yet despite this, the shoes are quite comfortable. Probably not something you'd want to wear all day, but comfortable enough.

For the price, I'd gladly buy this shoe again!


Reviewed by Sport climber from Texas on Monday, September 9, 2013

I got this shoe and sized down a full size from my street shoe to get the heel cup to fit perfectly. I've never come across a shoe better for heel hooking, and am pleased.

My only complaints are these: I had to cut the slingshot rand a bit since it was putting enough pressure on my achilles tendon to cause injury (this is what makes the heel fit like a glove) after making this modification, it was perfect in fit

Also, initially the rubber on the toe is far too thick, making the first few weeks of climbing a bit more difficult as there isn't much sensitivity when toeing in, but it goes away completely once they are broken in.

Overall, these shoes are incredibly aggressive and very similar to the solutions, and amazing for overhung routes and bouldering. Take the strap off for a slip on fit, and size these small as they are probably the most comfortable aggressive shoes I've worn (besides the over-taught slingshot rand)

Well worth the money, especially with the coupon. I recommend these to buy, hope my review helped!

Reviewed by tyguy from Utah on Sunday, June 2, 2013

Bought with a coupon and absolutely love the shoe. Fits on like a glove but a little hard to get on the first time. Excellent grip, would recommend.