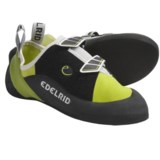 Closeouts. Excellent all-around performers, Edelrid Tornado climbing shoes have a slightly asymmetric last that fits a variety of foot shapes and balances all-day comfort with edge support.
Average Rating based on
20
reviews
4.100000
0
5
Reviewed by Tracy from Arizona on Monday, March 31, 2014

I really liked these and wanted to keep them. I am a US women's 7.5 to 8. I sized up to one and a half sizes from a 7.5 to a 9 after the conversion from UK sizes. I found them to still be too tight, even for climbing shoes. I think I would have needed to go up to a 9.5, but unfortunately they didn't have it in this size. Bummer.

Reviewed by Gavin from Austin on Thursday, February 13, 2014

These shoes are awesome, good rubber, somewhat aggressive but still comfortable enough I can wear them for a while.

Reviewed by Physics Ranger from Alexandria, VA on Friday, January 10, 2014

I've had these shoes for about 2.5 months now. I wear a 9-9.5 US size street shoe and the UK 8.5 fit great (thanks to all the useful sizing reviews on this website). I've used them indoors bouldering and top roping (~4 times per week, so lots of use in only a couple of months). I've been climbing for ~6 months (only indoors so far) and wanted to step up to a slightly more aggressive shoe but wasn't ready for something like the Ravens. I think these shoes work quite well for that.
They break in rather quickly so I can wear them for long periods but tend to take them off between climbs anyway. The heel can feel a bit different, I usually step up and down a few times right after putting them on to make sure the heel is in properly. The toes stick to the holds very well and feels very secure. I love the way the heel feels when doing a heel hook, much more secure than previous shoes and much easier on the heels. The sliding rail system is convenient but I wouldn't recommend moving them too much or too frequently.
As alluded to above, read the reviews regarding sizing carefully. The shoes fit my feet well, someone with wide feet might find the design of the shoes unworkable, but too narrow and the heel may not suit you.

Reviewed by Stupid Sexy Flanders from Austin on Wednesday, November 27, 2013

These shoes, while being one of the less aggressive shoes I own, are currently my favorites. Once broken in they are comfy alldayers with a great edge and sticky rubber (vibram). The last in them is even a tad stiff so I could see these shoes being great for slab work. The toe box is a bit bulky so thin cracks might be an issue but if you're into that stuff you probably already have a pair of TC Pros or something anyways. For the price these shoes make a great gym shoe and don't look like what everyone else is wearing.

Get a pair!

Reviewed by Epsilon from San Francisco on Wednesday, October 2, 2013

Took a chance on ordering climbing shoes online since the deal was good, but I'll be returning them unused despite the price. The shoes seem well made, but were simply to big in the heel for me.

Reviewed by supperdog from OH on Thursday, September 19, 2013

I usually ware street shoes US 7.5 and tried few pair climbing shoes at REI store, so I was pretty sure what size I should order.(EU 41.5 to 42) Ordered this climbing shoe in US 8.5 which coming in UK 8.5 but it still too small. Make exchange to UK 9 with STP which was easy, fast and shipping free.
Went to climbing wall few times, the shoes is great. The most impotent note is for most weekend non-professional climbers the proper fitting of the climbing shoes are the most important thing. Buy this shoes one and half size up.

Reviewed by supperdog from Oh on Thursday, September 12, 2013

Usually wear street shoes US 7.5 ordered US 8.5. It is still too small. In the end exchange for US 9.5. On the box it use UK sizing, so if you want to order this shoes. Use STP size on the web and add 1.5 size up your street shoes. Tried it on climbing wall. It feels great.

Reviewed by Rock wall neophyte from Colorado on Wednesday, July 31, 2013

First - I am a men's size 9.5 US shoe. I wound up in the UK 9.5, which is 10.5 US according to the mouse over sizing, and even these are very tight and my toes are jammed in there. I cannot really walk in them but they are awesome on the rock wall. I have only used the rental shoes before these. They are great on the wall, and the toes are curved in slightly for better gripping. Also had a girl tell me how cool they looked, which did not help my climbing but felt good to hear. One downside is that on the first couple wears, the dye comes off on your foot a bit so they look jaundiced when you take the shoes off.

Reviewed by Jeffrey from L.A. on Monday, April 22, 2013

Most reviews here are so useless & lame. Used the product first before one spews out waste. I am a 8 street, I bought 9 1/2. I climbed these babies for 10 days. Awesome at edging on a dime. the rubber sticks and smears rad. Danced up some 5.10c in record time.

Reviewed by Karl Lamming from Texas on Wednesday, March 27, 2013

I enjoy how easy it is to get these on with the straps. These don't have a lot of arch to them but just enough to make them great on the wall. Very comfortable If you have the right size.