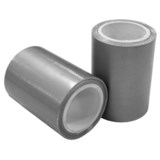 Closeouts. Duct tape is said to be the most versatile piece of survival gear you can carry, and eGear's duct tape comes in a pack of two so you can always have a roll on hand.
Average Rating based on
23
reviews
4.347826
0
5
Reviewed by Christina the Nomad from San Diego on Sunday, February 9, 2014

Luckily I did not have to use duct tape during my trip (all my gear held up), but it's always a good thing to have when backpacking.... it's tiny enough to stuff in a pocket or available space in your pack. Looks like standard tape, so I'm sure it'll hold up.

Reviewed by dmaerz from North Carolina on Wednesday, September 4, 2013

While not as cheap as rolling up the duct tape myself, it was fairly close with the 35% off coupon. These rolls are convenient for my kids to through in their packs for what even need may arise.

Reviewed by Iva from Taos on Wednesday, August 28, 2013

The rolles are smaller than the size in regular stores and two pieces - convenient to place them in two different places where you might need the tape the most.

Reviewed by charlotte from poughkeepsie on Wednesday, August 21, 2013

good product. will recommend to others

Reviewed by Hoverpilot from Reno, NV on Tuesday, August 20, 2013

AKA medic reinforcement tape. Most versital.

Reviewed by Nanou from Ny on Monday, August 19, 2013

What else??!! Good packaging...

Reviewed by Teasley from Seattle on Thursday, August 15, 2013

Great buy for your hiking pack

Reviewed by wes from NJ on Monday, August 12, 2013

Does what it should but smaller center roll would be nice to save space.

Reviewed by 55 shopper from MD on Wednesday, August 7, 2013

great size,ifyou have limited space,car trunk,condo,backpack,etc. liked the size, have not tried the tape strenght yet

Reviewed by Constant Hiker from Texas on Tuesday, August 6, 2013

I haven't needed to use this tape yet, but am glad to have them on hand while hiking/backpacking/camping. A good amount of tape in a small, lightweight roll for a great price.

Reviewed by Karen the biker from New York on Tuesday, August 6, 2013

These are very small rolls of tape, but just right for camping/travel. Nice and light.

Reviewed by Spinewrencher from Vancouveer on Thursday, August 1, 2013

These are lightweight and easy to carry. Think of all the uses they have.

Reviewed by OgieBJL from Sacramento on Thursday, August 1, 2013

Duct tape is awesome.

Reviewed by Avid camper from Indiana on Wednesday, July 31, 2013

Duct tape can be used for anything. These are great because they are compact and take up very little room in my pack. Need a quick patch...throw some duct tape on it til you can properly repair.

Reviewed by labmom from AL on Tuesday, July 23, 2013

Bought to keep in my mountain biking Camelbak. Perfect size roll
To have handy for emergency first aid needs.

Reviewed by Yak Chap from Australia on Monday, July 15, 2013

Very cheap but utterly useless. The tape barely sticks to itself.

Reviewed by avid hiker from Here on Thursday, June 27, 2013

It's duct tape, you'll find many uses for it. Going in my BOB.

Reviewed by MtnPavlas from Washington on Monday, June 24, 2013

this duct tape is rather rough, compared to many other kids that are really smooth. I use duct tape for blister prevention (or even after I get them) as most duct tapes are really smooth so your socks can then "glide" over the taped area easily. Not with this one for two reasons: 1) It is rather rough; 2) the glue did not really hold well and then rubbed my heels pretty badly after it loosened.
Haven't tested yet other applications so perhaps it shines in other ways.

Reviewed by PauN from CMH on Thursday, June 20, 2013

As I wrote above, it is practical to take on trips.

Reviewed by Anonymous from Mt Hood OR on Thursday, June 13, 2013

okay - ot delivered what it looks like but I was still surprised by how little tape is on the roll. Still, it could save the day without taking up much room in a pack and it is neater than winding a couple of yards off a larger roll around your belt.

Reviewed by Fathomthat from Central IL on Sunday, May 26, 2013

Not much to say about it. I wrapped a good bit around one of my trekking poles for future use in a pinch.

Reviewed by Johnny the Hiker2 from New Mexico on Wednesday, May 22, 2013

I haven't used it but put one roll in my day pack and one in my backpack. Lightweight and easy to store and carry.

Reviewed by Snow Sportsman from New Hampshire on Tuesday, May 7, 2013

Just a small roll of duct tape, nothing special about it except the small amount for a small price. Handy size.