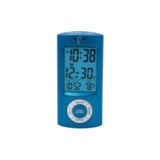 Closeouts. Equity by La Crosse Technology's digital pocket alarm is sized to fit in the palm of your hand, and can easily be clipped to a pocket or belt for easy transport.
Average Rating based on
29
reviews
3.448275
0
5
Verified Buyer

Reviewed by bmercedes from wa on Wednesday, October 15, 2014

Its okay, but seems a bit flimsy. The numbers are large and easy to read. Love having a temp and time in one.

Verified Buyer

Reviewed by Ande1121 from Colorado on Saturday, September 13, 2014

Small and portable. Works well, cute colors. Can't beat it for the price!

Verified Buyer

Reviewed by Alicia from Florida on Thursday, May 15, 2014

I travel out of the country several weeks per year. This clock is small enough to pack easily. I like the magnet on the back for when I cruise.

Reviewed by backcall3 from Texas on Friday, November 22, 2013

Same results as 2 other buyers: it doesn't work. Put the battery in correctly and push the TIME SET, C/F, or 12/24 buttons and you will hear it beep. That's all. It doesn't actually do anything. Nothing. Nada. Zero. Zilch. I believe the little beep is actually a word in the Equity-Pocket-Alarm-Clock language. The word is: "SUCKER".

Reviewed by Oscar from California on Sunday, November 10, 2013

I needed a reminder for my meds when I was busy around the house. This product filled the bill.
The only draw backs were the pocket alarm kept falling off the belt clip., and the alarm could be louder. If there is noise or under a jacket it is hard to hear.

Reviewed by JB from Middle Rio Grande Valley New Mexico on Monday, October 28, 2013

This is a small and convenient little device to keep in a pocket or backpack. But if you have an iphone or smartphone, it might be redundant.

Reviewed by Mela from Hawaii on Sunday, October 27, 2013

Amazing for the price. Held up even after I dropped it (twice) from a pretty good height! Big numbers are easy to see. The temperature is unnecessary but a fun little addition that I'm growing addicted to.

Reviewed by Backpack traveler from Iowa on Wednesday, October 23, 2013

Easy to set up, nice size, made one trip to boundary waters. The light i has to be at the right angle to see. Battery died after two weeks, don't know if it was the battery or what yet. But very good value for me.

Reviewed by Mela from Hawaii on Saturday, September 21, 2013

This is almost a 5-star item but the magnet is not well attached and if you stick it to something, you're likely to return to find it on the ground with the magnet still attached to the wall. Other than that, great little alarm. I use it when teaching, it's small enough to carry around but with big numbers that you can see without having to appear like you're checking the time. Easy to use and intuitive. Oh yeah, and the battery is included tho blocked with a tab.

Reviewed by MM44120 from Cleveland, OH on Sunday, September 1, 2013

I purchased this clock for an overseas trip. It never left my house.
I operate complicated machinery at work and am pretty well versed in the world of PC and Apple computers. I never met a device that I didnt like. Until now. I cannot figure out how to work this thing! I even read the instructions! Maybe an 12 year old could set it up, but I don't have a 12 year old around! It's going it sit in my kitchen drawer, mocking my inability to set the time.