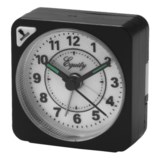 Closeouts. Dependable and pocket-sized, Equity by La Crosse Technology's Quartz travel alarm clock features an ascending alarm, snooze button, and luminous hands.
Luminous hands
Ascending alarm with snooze function
Requires one AA battery (not included)
Dimensions: 2x1x2"
Weight: 1 oz.
Material: Composite
Made in China
Average Rating based on
46
reviews
3.369565
0
5
Reviewed by Amelia from New York State on Tuesday, February 4, 2014

Small enough to be great for travel, but not so small that the buttons are hard to operate.
Love it.

Reviewed by NC Shopper from NC on Saturday, January 18, 2014

This is a super small clock. Yes, the one I keep at my
Mom's house for when I visit does tick a bit ..., but the one at my house doesn't. The room has to be dead silent for you to barely hear it. I sleep hard and it's loud enough to wake me up, which is saying a LOT !!!! It's easy to set, you pull out the alarm handle, you can see it's set, you push it in to shut it off. It has a snooze function on the top left, front and runs on one AA battery. No digital mysteries here to set at all. It's Analog, the alarm arm just sets where you turn it on the face of the little clock, it's lightweight and I simply love it. For $5.00, I don't expect it to be luminous. What I value is the excellent loud and increasing faster ringing to wake me up !!!! Very dependable. Put one beside the TV, in the bathroom, the kitchen, at a place you visit often.....if you are afraid of the slight ticking sound, put them in other places around the house. It is loud enough that you could set it a bit away from you while sleeping and you'd still hear it in the morning. it would be especially liked by people who don't like or have trouble reading digital time, maybe the older generation and kids, especially. Superior travel alarm, tiny to pack or just keep in your suitcase...one battery, and easy breezy to set. it the battery quits, you'll see the hands will be set at the wrong time. Have a spare AA battery for every few months.

Reviewed by comfort seeker in Seattle from Seattle, WA on Friday, January 17, 2014

It ticks! I'm not used to the ticking yet. So I put it far away from my bed and I must get out of bed to turn it off. Gets loud quickly...really gets me up!

Reviewed by westerner from NE Oregon on Thursday, January 16, 2014

Small and compact. The buttons are easy to use and the snooze button on the front is a good feature. I will purchase more for desktop use and for rooms without a clock. After two weeks the clock keeps good time. I like it.

Reviewed by KJR_simplelife from St Louis on Wednesday, December 18, 2013

I ordered this because of the "luminous hands", but have yet to see even a glimmer of a glow in the dark. I've even set it under a lamp to see if it needed charged, but still nothing. We'll keep it for a travel clock, and because it was so darn cheap.

Reviewed by John the IT guy from Finksburg MD on Friday, December 13, 2013

We bought 5 of these for ourselves and our 4 children, some away at college. stocking stuffers. We used ours already and is easy to set and has a loud alarm. Good item.

Reviewed by suzy from Connecticut on Wednesday, November 6, 2013

Nice little travel clock, BUT, it has a rather loud tick-tock and I cannot see it's luminous hands at night.

Reviewed by liliwite from Wisconsin on Tuesday, October 29, 2013

This clock is cheap workmanship, and runs very noisy for such a small item. I will keep it for a spare, but cannot sleep with the loud ticking.

Reviewed by Julie from Princeton, NJ on Tuesday, October 1, 2013

I bought this to go in my shower up on top of the ledge so I can keep track while I'm in there. Its just small enough to fit without falling off. It does have a loudish tick but its fine for my purposes. I haven't used the alarm yet. Its just a cheap little clock. But does its job and for the price I paid, can't go wrong.

Reviewed by Light sleeper from California on Saturday, September 21, 2013

The travel clock is fine except for one crucial point. It ticks very LOUD. I am using it in other rooms than the bedroom and it keeps very good time.
I don't know yet what the battery life is, so I can't comment on that.