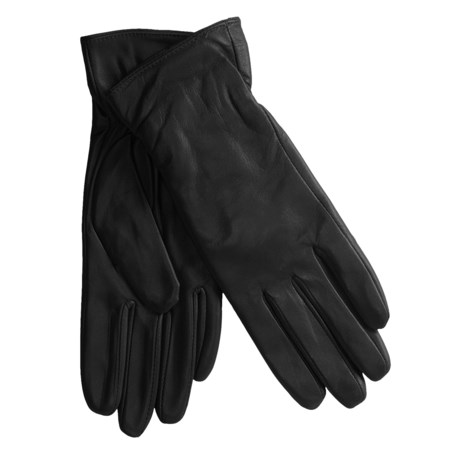 No. I use them as dress gloves and don't have a reason to get them wet except when brushing snow off the car. I've never soaked them through, but the leather does get wet.

No they're not

in answer to your question, these are dress gloves and they are NOT waterproof.

I don't know. I gave them as a gift.

I do not think these are waterproof.

No. They are for daily use, not for skiing or even shoveling - but I LOVE them!


I think they are as waterproof as any leather garment. Not as waterproof as a rubber or plastic, however.

I only wore them a short time before the weather changed. They are beautiful gloves, but waterproof, I think not.

I bought these for next winter so haven't used them beyond trying them on. Leather is generally not waterproof but can be water proofed or made more water resistant with saddle soap etc.


These are a pair of refined leather gloves suitable for more dressy or everyday 'city' use. I don't think these are appropriate for strenuous activity such as winter sports. Therefore, I would not classify these as waterproof gloves unless you treat them with a quality leather waterproof product.

I don't know if they've been waterproofed but I treated them as if they had not. I haven't worn them in the rain, but I did wear them in the snow and they repelled the moisture from the flakes with no discoloration. If you need them to be really waterproof, I think you'd need to treat them with a waterproofing solution.

These are not waterproof.

These are not waterproof.

These are not waterproof.