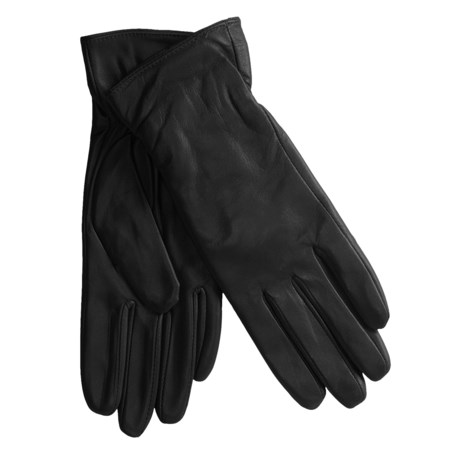 For questions regarding sizing please refer to our sizing chart:|http://www.sierratradingpost.com/lp2/SizeChart.html

Measure around the widest part of your hand (girth). Mine measures 7" size S, an XS, 6 1/2" is perfect for me. I bought a S in the Excelled glove; the fingers are about 1/4" too long but kept them because the gloves are so beautiful. Leather gloves will get roomier as you wear them. Hope this helps.

Measure around the knuckles (widest part of the hand). For these "Excelled Lambskin Leather gloves, I would order 2 sizes larger than the measurement you get.

You have to measure around your palm right where the knuckles are.|If it is for example 7.5" around - then you are size 7.5 - which is usually medium. 8" would be large , under 7 " is small.|Better stores have gloves in sizes 6, 6.5 , 7, 7.5 , etc.,but here you have to try your luck because fingers maybe too short, or too long .

I would suggest you try the medium, or perhaps the large since these gloves run small. I think you'll be very pleased.

If you wrap a tape measure around your hand at the base of your fingers, leaving the thumb out, you can determine your size for gloves. The number of inches around your flat hand at the widest part is about the size you need. If it measures between 7 and 7 1/2, for expample you will want to order the larger size. Good luck!

Generally, you'd probably wear a medium but to determine glove size you measure your hand around the widest part of your knuckles. (Not around the thumb area)

Hi Nancy, I think a medium pair would be perfect. I'm no authority on leather gloves but I own a medium pair and I'm about the same size as you.

Place your hand flat on the measuring tape, then measure the girth just below the knuckles on your hand (not around the fingers).

Use the sizing chart STP provides - just measure your hand (excluding thumb) at the widest part - usually at your knuckles. I did a quick measure with a straight ruler (front, back, and sides) and added them together - not 100% accurate, but enough to figure out which size on the chart.