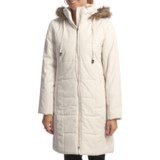 Closeouts. Puffy parkas not your style? Sashay through cold weather in Excelled's long insulated coat, a leaner, lengthier design with fashionable faux-fur trim.
Water-resistant shell
Zip-off hood with faux-fur trim
Concealed zip hand pockets
Length: 36"
Weight: 2 lb. 12 oz.
Fabric: Polyester shell and lining
Insulation: Polyester
Care: Dry clean
Made in China.
Average Rating based on
229
reviews
4.165938
0
5
Verified Buyer

Reviewed by Bernice from ABQ, NM on Tuesday, January 29, 2013

I wear a medium-large and ordered the large and it fit like small.

Verified Buyer

Reviewed by nvh from thousand islands area of nny on Saturday, January 26, 2013

Just did not fit me well. Chest was tight and arm length too long. Did not like the fur trim and it could not be removed. Wasn't a good choice for me.

Verified Buyer

Reviewed by The Mother from Lehigh Valley Pennsylvania on Friday, January 4, 2013

My daughter bought this for me to wear outside to smoke. It's warm, comfortable and easy to get on and off. I like the hood.

Verified Buyer

Reviewed by From a land down under from Kansas on Wednesday, December 26, 2012

Exceeded my expectations

Verified Buyer

Reviewed by gg from ohio on Tuesday, December 25, 2012

Warm but not very stylish

Verified Buyer

Reviewed by Happy Grandma from Southeastern Ohio on Saturday, December 22, 2012

Great everyday wear for winter.

Verified Buyer

Reviewed by Joy from Sebribg, FL on Friday, December 21, 2012

Love everything about the coat except the collar is pretty stiff and hood way too big!

Verified Buyer

Reviewed by Ree from Georgia on Wednesday, December 19, 2012

Bought this coat for my daughter in Colorado after seeing one simular at a store for a LOT more. Was so pleased with the quality that I bought one for my other daughter. Was nervous about the Faux Fur after reading some of the reviews, but I think it looks great. I did comb it out a little with a pet brush and it looked even better, like real fur.

Verified Buyer

Reviewed by Betty the Bargain Hunter from Pittsburgh, PA on Sunday, December 16, 2012

I got a super-duper good deal on the price. I like it for a quick throw on for errands. It's light weight, warm enough from car to shop and not too hot once inside. It would not be sufficient for sitting at an outdoor sporting event, however.

Verified Buyer

Reviewed by Babs from Ossining NY on Saturday, December 15, 2012

Very comfortable, warm, and attractive coat

Verified Buyer

Reviewed by Kate from Wisconsin on Tuesday, December 11, 2012

In the catalog it stated it wasn't puffy, I strongly disagree.

Verified Buyer

Reviewed by MM3MTSV from New Mexico on Friday, December 7, 2012

Because this is an inexpensive buy, I ordered a size large for body and sleeve length and it was a good idea. Good fit and there's room for a warm layer underneath if necessary. This is a practical comfortable choice for winter wear. The fur at the colar is a little mangy but Ok. Good length for walking, getting in and out of the car, being active. Overall, very pleased.

Verified Buyer

Reviewed by momof4 from Iowa on Wednesday, November 28, 2012

I bought one last year and shoveled snow and stood at bus stop with kids all winter. So great I even got one for my mom this winter. I got her the silver and it is a great color.

Verified Buyer

Reviewed by dog walker from mich on Monday, November 19, 2012

will replace "fur"

Verified Buyer

Reviewed by mary from Pace Florida on Thursday, November 15, 2012

I bought the coat to keep me warm on a very cold day & night. I think I will be very happy with it. I lived in Alaska for 30 years. It will do what I need it to do. It is a very nice looking coat also. It arrived in a timely manner. I live in a warm state, but when I travel to a cool state I need something to keep me warm.

Verified Buyer

Reviewed by teacher from Nashport OH on Thursday, November 15, 2012

I am teacher and I wore this on bus duty outside on a chilly, windy day with light rain and felt comfortable - warm and dry!

Verified Buyer

Reviewed by Lois from Florida on Monday, November 5, 2012

It is a very good looking coat. Very classy.

Best Uses: Special Occasions
Cons: Outside Zippers Unhandy
Describe Yourself: Classic Dresser
Length: Feels true to length
Pros: 2 Large Inside Pockets, Blocks Wind, Flattering, High Quality, Omfortable, Stylish
Sizing: Feels true to size
Sleeve Length: Feels true to length
Was this a gift?: No

Verified Buyer

Reviewed by Alaskan Mama from Chugiak, AK on Tuesday, October 23, 2012

Great winter coat to keep one snug when Winter hits!

Best Uses: Casual Wear
Describe Yourself: Classic Dresser
Length: Feels true to length
Pros: Blocks Wind, Comfortable, Flattering, High Quality, Stylish, Warm
Sizing: Feels true to size
Sleeve Length: Feels true to length

Verified Buyer

Reviewed by gabmac from colorado springs, co on Monday, October 22, 2012

I like it because it's long, but not too heavy. I bought the off-white color and it's gorgeous! Can't beat the price!

Best Uses: Casual Wear, Wear to School, Wear To Work
Describe Yourself: Trendy/Stylish Dresser
Length: Feels true to length
Pros: Blocks Wind, Comfortable, Flattering, High Quality, Nice Color, Stylish, Warm
Sizing: Feels true to size
Sleeve Length: Feels true to length
Was this a gift?: No

Verified Buyer

Reviewed by ny shopper from orange county ny on Tuesday, October 16, 2012

I found this coat to be flattering and it was not puffy.I decided to return it because it felt stiff and heavy.I got a down coat instead.I would recommend it to someone who is not looking for a light coat and wants a low price.

Best Uses: Casual Wear, Wear to School, Wear To Work
Cons: Stiff Material
Describe Yourself: Classic Dresser
Length: Feels true to length
Sizing: Feels true to size
Sleeve Length: Feels too short
Was this a gift?: No

Reviewed by mamalisa from louisville, ky on Tuesday, October 2, 2012

Wanted so much to keep this coat, but sleeves were about 2 inches too short on me. When I moved my arms up, it was about 3-4 inches too short in the sleeves. It wasn't bulky, had several medium sized pockets and the hood and coat seemed like it would block wind and cold very well. Sadly returning it...what a great bargain for someone with much shorter arms than I!

Describe Yourself: Trendy/Stylish Dresser
Length: Feels true to length
Sizing: Feels true to size
Sleeve Length: Feels too short
Was this a gift?: No

Verified Buyer

Reviewed by Indy Mom from indianapolis on Sunday, September 30, 2012

Everything about this coat lives up to the reviews. I have not worn it yet, but look forward to wearing it soon. It appears to be well-made. Attractive coat. The only feature that i would consider of poor quality is the fur on the hood (fur is cheap imitation and not that good-looking). However, I will most likely wear the coat with the hood zipped off, so not a big deal!

It's a great coat!

Describe Yourself: Classic Dresser
Length: Feels true to length
Pros: Blocks Wind, Comfortable, Stylish, Warm
Sizing: Feels true to size
Sleeve Length: Feels true to length
Was this a gift?: No

Verified Buyer

Reviewed by tennismom from virginia on Tuesday, September 25, 2012

Purchased this for my daughter to wear in college. Not too bulky or heavy. Long enough to keep her warm when she wears skirts/dresses. Appears to be good quality and craftsmanship. Two minor negatives...1) the color is stated as white. It is definitely an ivory color (label has the 'off' crossed out of 'off-white') 2) wish the zipper was of better quality but cannot really complain for the price.

Best Uses: Wear to School
Cons: Color Not As Expected
Length: Feels true to length
Pros: Comfortable, Flattering, Stylish
Sizing: Feels true to size
Sleeve Length: Feels true to length
Was this a gift?: Yes

Reviewed by Nobrry3 from Wisconsin on Saturday, September 22, 2012

I haven't used this yet so can't comment on warmth but I am a medium normally and this coat is slightly tight WITHOUT a heavy shirt under it and the sleeves are short. I am 5'9" and a size 8 in most clothes.

Best Uses: Winter
Cons: Poor Fit
Describe Yourself: Casual Dresser
Length: Feels true to length
Sizing: Feels too small
Sleeve Length: Feels too short
Was this a gift?: No

Verified Buyer

Reviewed by shop for life from orlando,florida on Wednesday, September 19, 2012

great

Best Uses: Casual Wear, Date Night/Night Out, Wear to School, Wear To Work
Describe Yourself: Trendy/Stylish Dresser
Length: Feels true to length
Pros: Comfortable, Nice Color, Warm
Sizing: Feels true to size
Sleeve Length: Feels true to length
Was this a gift?: No

Verified Buyer

Reviewed by carolyngo from Michigan on Saturday, September 8, 2012

Will be returned

Cons: Bulky, Poor Fit, Poor Quality, The ~~~quot~~~fur~~~quot~~~ Trim Cheap, This Coat Is Poor Quality
Describe Yourself: Classic Dresser
Length: Feels true to length
Pros: Nice Color
Sizing: Feels true to size
Sleeve Length: Feels true to length
Was this a gift?: No

Verified Buyer

Reviewed by CTMom from Northeast USA on Tuesday, August 14, 2012

I have wanted a long insulated coat since I saw one on a friend last year. This one is perfect, some of them are so bulky that they make me look really big. This one is fitted and is quite flattering. It feels as if it will be really warm and cozy for those cold winter days and nights!
The front of the collar is a little high, hopefully it won't bother me. When it's all closed up it will cover my chin for when it's really cold and windy, When I leave it partially open it sort of feels in the way a little.
Other than than that I love, I got the black one.

Best Uses: Casual Wear, Wear To Work
Describe Yourself: Classic Dresser
Length: Feels true to length
Pros: Blocks Wind, Comfortable, Flattering, Stylish, Warm
Sizing: Feels true to size
Sleeve Length: Feels true to length
Was this a gift?: No

Verified Buyer

Reviewed by agedsage from NJ on Thursday, July 26, 2012

I love the color (merlot) and the fit of the coat. It was 94 degrees out when it arrived, so I can only assume that it will be warm when the temperatures head the other direction. I was delighted at the price.

Best Uses: Casual Wear, Wear to School, Wear To Work
Cons: No material information
Describe Yourself: Classic Dresser
Length: Feels true to length
Pros: Comfortable, Like the interior pockets, Nice Color, Warm
Sizing: Feels true to size
Sleeve Length: Feels true to length
Was this a gift?: No

Verified Buyer

Reviewed by zee from Perth Western Australia on Thursday, July 26, 2012

This is a gift for my Sister, I have brought one and I was so pleased with it, I brought my sister one , as we are going to Gallipoli in 2015

Best Uses: Special Occasions
Describe Yourself: Classic Dresser
Pros: Nice Color
Was this a gift?: Yes

Verified Buyer

Reviewed by MomRose from Claremont, CA on Thursday, July 5, 2012

I live in Calif, but visit the East coast often. I needed a very warm coat, that could be packed. Since this is very lightwight, and can be compressed, it fits the bill.

Best Uses: Casual Wear
Describe Yourself: Casual Dresser
Length: Feels true to length
Pros: Blocks Wind, Comfortable, Flattering, High Quality, Nice Color, Stylish, Versatile, Warm
Sizing: Feels true to size
Sleeve Length: Feels true to length
Was this a gift?: No