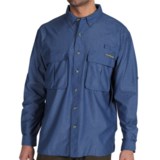 Closeouts. Cut your travel wardrobe in half with ExOfficio's Air Strip Lite shirt. This lightweight, wrinkle-resisting top blocks harmful sun rays and features strategic, but discreet ventilating panels to keep you cool.
Average Rating based on
13
reviews
4.846153
0
5
Verified Buyer

Reviewed by stoney point from duuth on Wednesday, November 11, 2015

This shirt feels and looks great. I look forward to taking it to a hot climate!

Verified Buyer

Reviewed by rwhood from upstste NY on Friday, July 24, 2015

Have always been a cool/cold weather person. Never cared for hot weather, even more so as I have gotten older. Always looking for clothing/things to help me stay cooler in Summer. So big fan of ExOfficio summer clothing; have 4 pants, 9 shirts, and several underwear. If I HAVE to travel in the Summer it is almost a guarantee will be wearing ExOfficio to the airport, during much of the trip, and on the way home from the airport. If you travel to places without Western conveniences, ExOfficio easily hand-washes in a tub and will most likely be dry & ready to wear in the morning.

About the only 'con' is the pockets close/fasten with velcro, I prefer buttons.

Verified Buyer

Reviewed by duckyvet from north carolina on Tuesday, February 24, 2015

fits true. Color as shown.

Verified Buyer

Reviewed by Judy3338 from Southern NM on Friday, February 20, 2015

This shirt is wonderful sun protection for hot weather activities. The lightweight fabric plus the design to maximize air flow makes it quite comfortable. I've worn these shirts in multiple colors, on 24-hour international plane flights as well as hiking every archeological site in Israel and Palestine. They wash out easily in a sink and dry overnight. Perfect for travel and warm outdoor pursuits. Great color selection!

Verified Buyer

Reviewed by Tater from Utah on Monday, December 8, 2014

Been looking at these shirts for some time and found them to be a bit pricey for my liking on a retired budget. I saw there was a break on price and went for it, buying two shirts. They did not disappoint as they delivered the quality and look I was looking for. Two thumbs up!!

Verified Buyer

Reviewed by Judy3338 from New Mexico on Wednesday, September 17, 2014

This is the best shirt that ExOfficio has ever manufactured! My husband LOVES them and now owns four, in various colors. They are comfortable and cool on the hottest of days (we live in the desert Southwest), and layer well in cooler weather. They have built-in UPF so no worries about sun exposure, and they wash up beautifully with no ironing needed. My husband wears them year-round and I know he will buy more as time goes buys. Great job, ExOfficio!

Verified Buyer

Reviewed by KENERI Expeditions from Florida on Tuesday, August 26, 2014

I've worn these shirts for many years all over the world in very cold to very hot climates. I love them. They are very versatile and take the place of several separate shirts which keeps packing light. You can wear it in or out, buttoned or open, sleeves down or rolled up. I've worn it as a jacket over a tee shirt in the morning and made it progressively configured cooler during the day and then progressively configured warmer in the evening. At my wife's insistence I just bought this new set to finally replace a set I've had for at least 15 years.

Verified Buyer

Reviewed by Anonymous from Colorado on Saturday, July 26, 2014

Comfortable, vented, good fit . I have several of these shirts and they are great.

Verified Buyer

Reviewed by John L from Arkansas on Sunday, May 25, 2014

This shirt does it all. It looks nice enough to wear to work if you have a casual environment. In cold weather simply add a base layer under it to counter the air strips in the side, in warm weather roll up the sleeves and use the attached strap to button them in place, then use the Velcro tab to raise the flap over the shoulder to allow additional ventilation. The shirt also dries very quickly, so you can save yourself some bucks on electricity. I simply put mine on a plastic hangar and they are dry in 2 hours or less. If there is one possible short coming, I personally have a tendency to loose the buttons on the sleeve, but the shirt comes with spare buttons. If you plan to wear the shirt roughing it, you might consider getting a needle and thread and reinforcing the buttons on the sleeve. My closet contains several of these shirts, I certainly home that Ex-Officio continues to make them as I have found nothing that can compare with the quality, fit, looks and over all functionality of this product.

Verified Buyer

Reviewed by chetjet from North Idaho on Thursday, May 8, 2014

Color is beautiful, sleeves are a little short, excellent quality construction, easy wash and wear for travel.