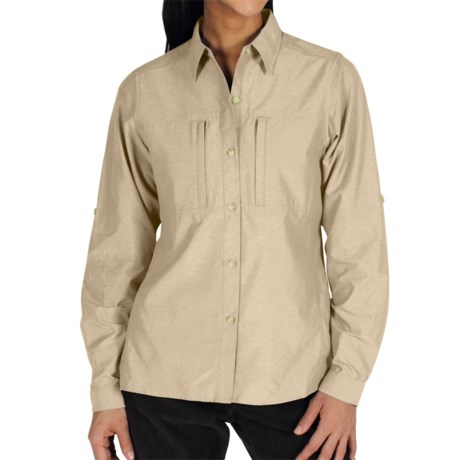 Love these shirts! ( Exofficio Dryflylite, High Sierra Gobi desert, Mountain Hardwear Trailhead).
Reviewed by Judy hiker from NY on Saturday, July 20, 2013
I bought all of these shirts at the same time and love them all for different reasons. I also wanted to group them all in one review for comparison/ contrast information. I am a touch over 5' tall, and my dimensions correspond exactly with the xs specs for the Ex Officio line.
Let's start with the Ex Officio Dryflylites;
Fit; I take an xs in this brand, and the fit was perfect! They are just roomy enough to be cool , but not so roomy as to look voluminous. The sleeves were exactly right and the shoulder seams laid exactly where they should be.
Fabric; very nice fabric, light, but not so much that it sacrificed opacity. These shirts were quite comfortable in in 90+ degree weather with high humidity. I do a lot of hiking and plan to use these shirts both as street wear and on an upcoming trip to the Amazon.
Design; love it! There have been some disparaging remarks about the pocket design on these shirts. People have complained that they look "weird" with the side access zippers. However, I thought that this design detail was very well thought out. The side zippers make the pockets very low profile, and If you're looking for technical clothing that can double as street wear, they look so much better than top flap pockets. If you're hiking, the side zipper makes perfect sense; you can access what ever you have in the pockets ( individual sunscreen packets, gu, etc.) easily since the zipper will not be laying under your pack straps! Another plus of having the chest pockets is that you can wear a very light (or no) bra under the shirt without worrying about coverage.
High Sierra Gobi Desert Shirt:
I bought this shirt because I wanted something in white that had good functionality while hiking and could also double as street wear. One reviewer said that the shirt held up well after 5 days of hard hiking! This was a major selling point for me.
Fit; according to the High Sierra size chart, I take a small. It was a bit more roomy than the Ex Officios, but not so much that it looked as if I stole a shirt from my boyfriend's closet. Shoulder seams were OK, and the sleeves were a bit longer. the sleeve situation was easily rectified by simply folding the cuffs back.
Fabric; also very nice and light. I found this shirt to be equally comfortable in hot, humid weather. The fabric makes this garment look more like a dress shirt more than technical gear.
Design; Simple and fabulous. there is one pocket near the base of the shirt for small items.
Mountain Hardwear Trailhead Shirt;
Fit; Got this in a size 4. This shirt had the least roomy fit of all the items I purchased, but it has a wonderful stretchy fabric that makes the fit work. It might have been too tight if it didn't have shoulder gussets (more on that under "design").
Fabric; More heavy weight and suitable for cooler hikes and travel. The stretchy aspect of the fabric gives the overall look a more tailored appearance. It also has a subtle ribbon detail that gives the shirt a more dressy appearance, but not so much that it looks inappropriate for outdoor activities.
Design; LOVE! This shirt has rotated seams, so you won't have annoying pressure point under your pack. there is a large vertically oriented pocket on the front designed for maps, but it works equally well for stashing your passport and boarding pass when traveling.
The shoulder gussets allow for great arm movement and the under fabric is mesh for good ventilation. And... it has articulated elbows! This will be my "go to" shirt for travel.
This shirt also has a nifty pocket on the sleeve.
All of these shirts are quick dry and wrinkle free, which makes maintenance a snap. If you want really versitile clothing that will last and look good, get these shirts!




Most helpful negative reviews
Similar items and more information in the following areas: