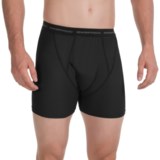 2nds. Made with stretchy, moisture-wicking, quick-drying and anti-odor fabric, ExOfficio's boxer brief underwear provides ultrabreathable, long-lasting comfort that's perfect for adventure travel.
Average Rating based on
129
reviews
4.542635
0
5
Verified Buyer

Reviewed by NCMG from NC on Wednesday, December 28, 2016

have bought a bunch of these over the years, the front could be designed a little bit more structured/supportive. fabric is great though

Verified Buyer

Reviewed by BigV58 from New Paltz, NY on Tuesday, December 13, 2016

I've been wearing these briefs ever since I first tried them. I require very breathable underwear and these definitely fit the bill. I first started with the plan boxers and then switched over to the boxer briefs because they provide a little tighter support. But both work extremely well for me.

Verified Buyer

Reviewed by casual teacher from South Carolina on Tuesday, November 29, 2016

This is the only brand and style of underwear in my husband's drawer. He says he can't even tell if he is wearing them. I wash them and line dry. They run true to size

Verified Buyer

Reviewed by Andy in Richmond from Richmond, VA on Monday, November 28, 2016

These are comfortable, light weight, easy to wash, VERY fast drying, stretchy.. Think of a positive attribute and these boxers have them.
I had 3 pairs that I rotated through for 4 years before the elastic finaly wore out and I decided to replace them with these.
Over 400 days of use is pretty good if you ask me. (I could probably have replaced the elastic and kept them going if I really needed to.)
Obviously, I am very pleased.

Verified Buyer

Reviewed by Hiker Bud from The beautiful pacific northwest on Friday, August 19, 2016

I have worn the ExOfficio boxer briefs for years. They're the most comfortable best fitting underwear I have ever worn. It's the only underwear I'll wear. The value is certainly there for the cost.

Verified Buyer

Reviewed by Chris from Seattle on Monday, July 4, 2016

Mixed feelings on these. Obviously great material and quality construction, but they have a loose and lumpy fit. Very unflattering. If you're looking for function, these are just fine. If you're a little more style conscious, I'd go with the Terramar which are pretty close on material quality for a much lower price and just have a better overall fit.

Verified Buyer

Reviewed by cterr from Cal on Monday, June 27, 2016

I originally bought these for a backpack hunting trip. Since then, I have purchased more for every day use. Very comfortable and they keep the sweat and odor away from the skin. No more cotton for me!

Reviewed by M. Williams from Oklahoma on Thursday, June 9, 2016

First synthetic underwear I've ever purchased and wasn't sure if I'd like them after being in regular briefs for so many years, but I really like them. They don't bunch up at the legs when I put on my pants and I've worn them on a 10 mile hike with no problems.

Verified Buyer

Reviewed by Jonny from Idaho on Wednesday, June 8, 2016

ExOfficio give-and-go boxer briefs are just the best. I have tried different Terramar boxer briefs, and they have been okay, but they don't match the ExOfficios. These are the most comfortable boxer briefs I have ever worn, and they truly excel for backpacking and traveling. Once you have experienced these, you will never turn back to cotton underwear again. I have had different pairs of these over the years, and each pair has given me years of use.

Verified Buyer

Reviewed by David - Motorcyclist from California on Tuesday, May 31, 2016

I like boxer briefs that hold up better than the standard cotton or cotton blend fabrics and have a "wicking" capability to keep me comfortable when riding motorcycles. I used to order Wicker's brand underwear but they've gone out of business! These ExOfficio briefs fit well and are comfortable!