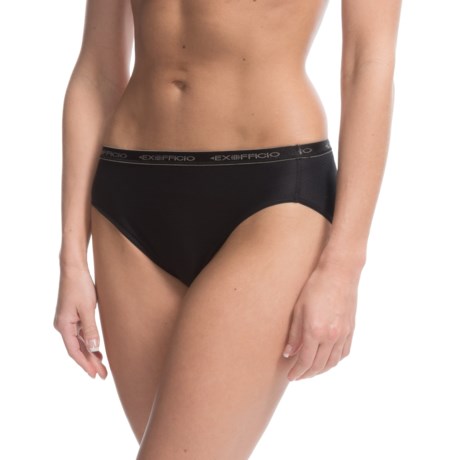 I went with my usual clothing size on these and they fit well. I usually wear a size 6 in jeans and got Small in the panties (listed as fitting size 6-8). They are not loose at all, probably more on the slightly snug side.

I would say that if you wear a size 18 jean you will need a 2XL ExOfficio brief and these will be snug but not cut off circulation in your thighs. I wear a size 12 pant and would wear a 7 in cheap panties and found that the large ExOfficio briefs are snug and perfect for working out. I've had them for over 6 mos. now and with daily wear and washing they continue to fit well, wear well.

like most wick away panties, they're small , tight. I go for a larger size than normal

They don't shrink and are true to size. I always find the elastic is a bit smaller than I would like, as my waist is bigger as I get older, but since these are lower cut, it shouldn't matter.

GREAT!!! Thank you everyone! I really appreciate the info!

I wear a US size 8/10 and own these Exofficio panties in both the M & L. The Medium are very fitted and show a panty line through spandex so I prefer the size L for working out and wear the M's for casual wear. I am pear shape if that matters. Hope this helps!