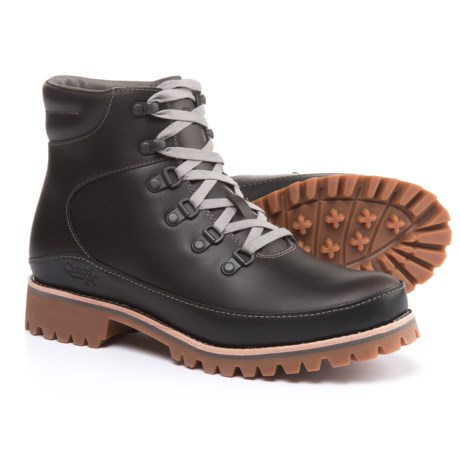 I'm sure it exists somewhere but personally I wouldn't polish them, perhaps use a boot wax. Or let them age organically.

These are hiking boots! I'll use leather cleaner/conditioner, and maybe a leather waterproofer. Despite my 32.5yrs of military service, it never occurred to me to polish these boots (and i still have a couple shoe-shine kits).

That said, if you're in urbanite, I suppose you could use neutral shoe polish...but these boots weren't made for city walking.

Most shoe stores carry a variety of shoe polishes in colors. I am referring to an actual shoe store, not a department store or shoes within another merchandise store. I find great selections more easily found in the western part of the US as cowboy boots come in many colors. One owner told me if you can't find the color you want try neutral to polish the surface. These particular boots will always look distressed that's the nature of the leather. Amazon always has a selection of many shades, including greens.

I've not been able to find colored polish, but leather cleaner/conditioner in clear works very well. I've had my boots for several months, and by using a leather conditioner, they still look new.

Ok I just checked with Chaco on this. They recommend just cleaning and conditioning the boots. If you wish to polish, select a color neutral one.