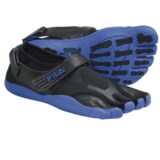 Closeouts. For the barefoot enthusiast looking to move down the shoreline and into the water, Fila's Skele-Toes EZ Slide water shoes offer maximum flexibility in a lightweight package that moves in and out of the water with ease.
Average Rating based on
4
reviews
4.000000
0
5
Reviewed by Matthew from Illinois on Thursday, September 4, 2014

A couple years ago I bought my first two pairs of Skele-toes of this style and love them. They're extremely comfortable and every now and then it's nice to get compliments on my unique footwear.

Durability: Two years later (though given my usage of them I suppose you could count it as one year of wear only) they're still holding together but starting to come undone. So long as you don't experience a major malfunction such as a toe ripping off in the first month or so you've got a solid pair. For at least a year mine have had the sides coming unglued but the advance of that ungluing has stopped. On one toe with one of the pair the sole underneath the toe pocket has come undone but doesn't provide a major inconvenience and again only the part under the toe is free hanging. The rest of that sole is still as it should be. Overall I'd summarize their durability as they start falling apart soon (in a couple months) but don't fall apart much after that.

New vs. Old: After receiving my new pair from Sierra and comparing it to my old pairs I noticed some immediate differences.
1: Both my old pairs and my new pairs are size 10. My old pairs I slip on and off without any trouble in a couple seconds. When I first put on the new pair I had to loosen the back straps all the way (something I don't do with my old pair where those back straps are kept permanently strapped) and needed to wiggle my foot in a bit. I attribute this to their newness and expect that with time that will be fixed as I put some wear into them. But had the new pair been my first pair I would've said they were too small and looked for how to return them. Only because I know the end result do I have confidence they'll loosen up.
2: My new pair has a lot more cushioning than the old pairs. (I know that sounds strange on a pair of shoes where there's so little padding in the first place.) I've been used to basically just having a rubber sole under me that having the fabric in its stage where I can feel a brief cushioning is weird. With time I again expect that it will be beaten down and go to the more barefoot feeling I'm accustomed to.

Care: After a while of wear these shoes start to smell. Fortunately they are washable. Unfortunately they are not (as advertised) water shoes and take a while to dry. For that reason I suggest purchasing two pairs. How I wash them is that I get some tide and a bucket. First I fill the bucket with water and swish them around. This removes the first layer of dirt. The second wash gets more in depth as I add some tide and removes further dirt along with some smell. I repeat that process in a third wash. Then a fourth to however many washes of only water it takes to get the soap out does the trick. To do both pairs this only takes about 30-45 minutes and is not as laborious as I may have made it sound. If you can do this in the morning on a sunny day they should be dry by evening if you leave them in sunshine otherwise it's best to put a fan on them.

One thing I want to also note is that to make these shoes as comfortable as possible there is a style to walking with them. Hit the ground with the front of your feet instead of the back of your feet as you do in traditional running shoes. This, at least in my experience, leads to a comfortable experience and helps avoid any obstacles. (Though the sole takes care of most of those.) It also reduces the pressure put on your ankles. At first your feet will tire from walking in the new manner but soon you'll be comfortably doing it and living life with happy feet. Only thing I still need to figure out is how to be able to wear them in Winter when I've been forced to switch back to traditional footwear.

Overall it's a great product and very comfortable. I recommend it to anyone that asks. If you see a pair in your size available I highly advise you snatch it quickly as this product is becoming scarce.

Reviewed by Dave the Wave from Texas on Friday, June 14, 2013

Ordered these shoes, received wrong color and not like in picture. they look like a cheaper version that was made in china.

Reviewed by Dario fiora from Argentina on Tuesday, June 4, 2013

It´s like a glove in your feet.

Verified Buyer

Reviewed by missy from florissant mo on Monday, December 10, 2012

I love these shoes, and they got here within a few days of my order!